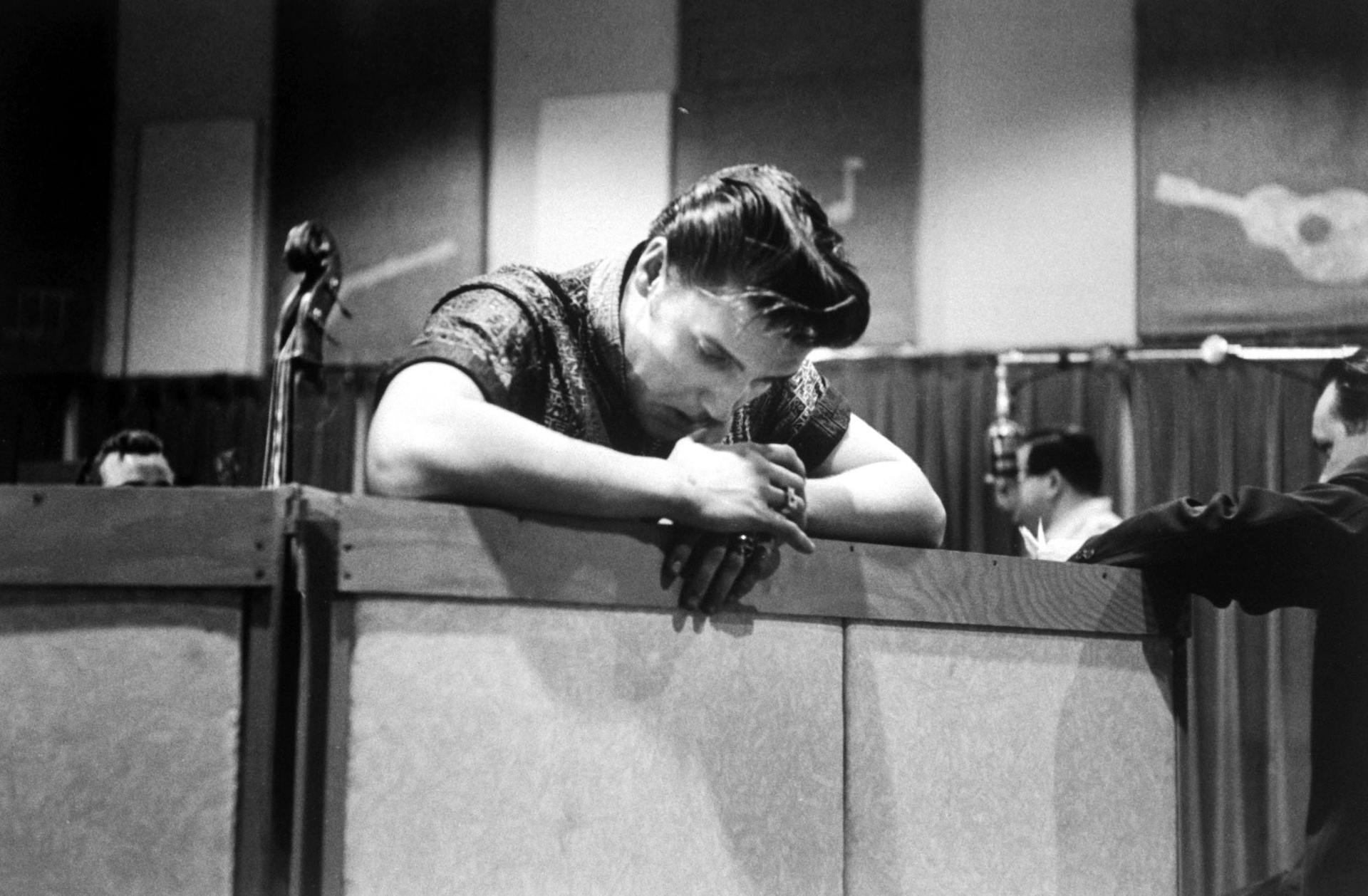 Pinpointing Elvis Presley's true persona can depend on when and whom you ask. Don Cravens/Getty Images
In Baz Luhrmann's "Elvis," there's a scene based on actual conversations that took place between Elvis Presley and Steve Binder, the director of a 1968 NBC television special that signaled the singer's return to live performing.
Binder, an iconoclast unimpressed by Presley's recent work, had pushed Elvis to reach back into his past to revitalize a career stalled by years of mediocre movies and soundtrack albums. According to the director, their exchanges left the performer engrossed in deep soul-searching.
People are also reading…
In the trailer to Luhrmann's biopic, a version of this back-and-forth plays out: Elvis, portrayed by Austin Butler, says to the camera, "I've got to get back to who I really am." Two frames later, Dacre Montgomery, playing Binder, asks, "And who are you, Elvis?"
As a scholar of southern history who has written a book about Elvis, I still find myself wondering the same thing.
Presley never wrote a memoir. Nor did he keep a diary. Once, when informed of a potential biography in the works, he expressed doubt that there was even a story to tell. Over the years, he had submitted to numerous interviews and press conferences, but the quality of these exchanges was erratic, frequently characterized by superficial answers to even shallower questions.
His music could have been a window into his inner life, but since he wasn't a songwriter, his material depended on the words of others. Even the rare revelatory gems – songs like "If I Can Dream," "Separate Ways" or "My Way" – didn't fully penetrate the veil shrouding the man.
Binder's philosophical inquiry, then, was not merely philosophical. Countless fans and scholars have long wanted to know: Who was Elvis, really?
A barometer for the nation
Pinpointing Presley can depend on when and whom you ask. At the dawn of his career, admirers and critics alike branded him the "Hillbilly Cat." Then he became the "King of Rock 'n' Roll," a musical monarch that promoters placed on a mythical throne.
But for many, he was always the "King of White Trash Culture" – a working-class white southern rags-to-riches story that never quite convinced the national establishment of his legitimacy.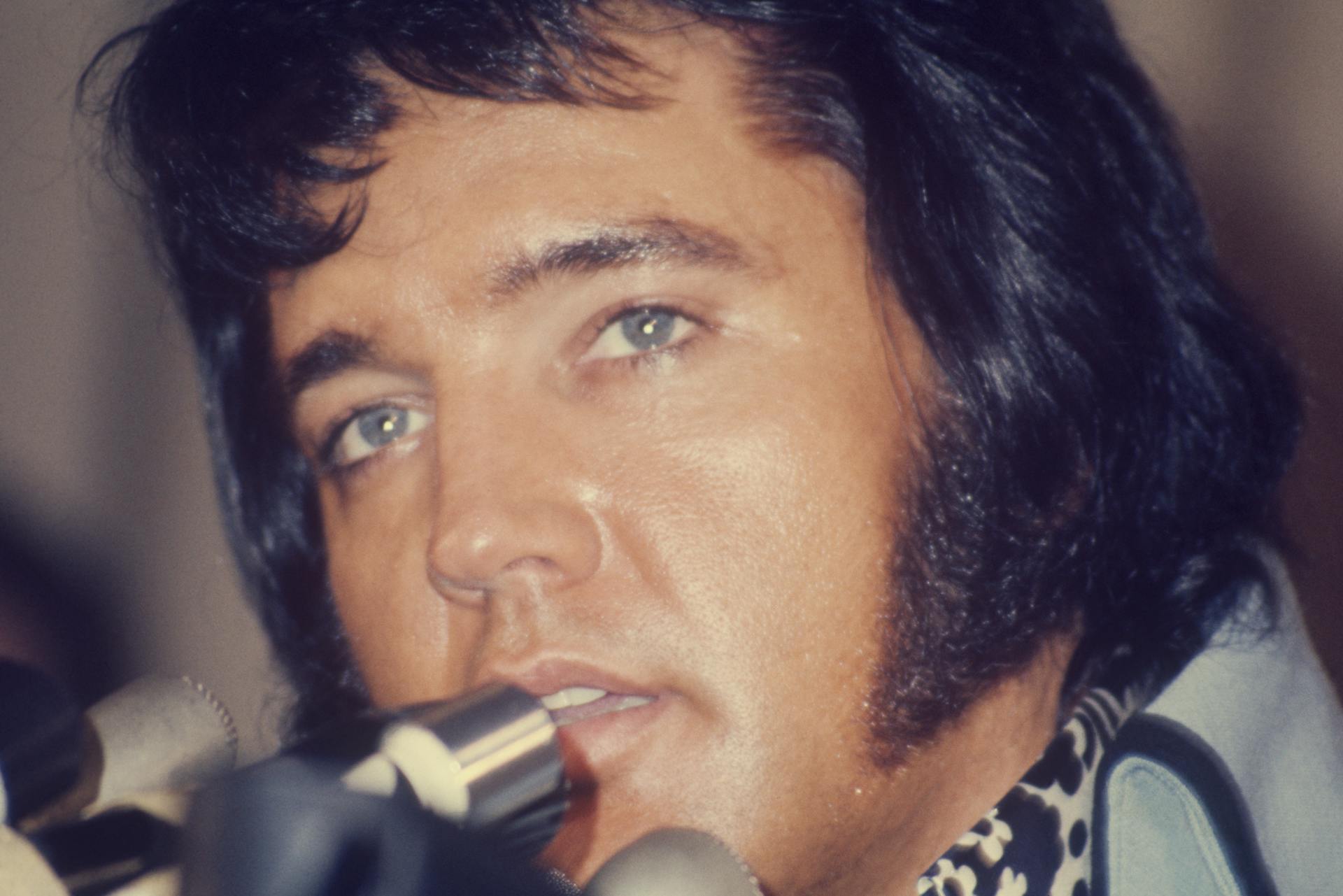 Elvis Presley during a press conference at Madison Square Garden in New York City in 1972. Art Zelin/Getty Images
These overlapping identities capture the provocative fusion of class, race, gender, region, and commerce that Elvis embodied.
Perhaps the most contentious aspect of his identity was the singer's relationship to race. As a white artist who profited greatly from the popularization of a style associated with African Americans, Presley, throughout his career, worked under the shadow and suspicion of racial appropriation.
The connection was complicated and fluid, to be sure.
Quincy Jones met and worked with Presley in early 1956 as the musical director of CBS-TV's "Stage Show." In his 2002 autobiography, Jones noted that Elvis should be listed with Frank Sinatra, the Beatles, Stevie Wonder, and Michael Jackson as pop music's greatest innovators. However, by 2021, in the midst of a changing racial climate, Jones was dismissing Presley as an unabashed racist.
Elvis seems to serve as a barometer measuring America's various tensions, with the gauge less about Presley and more about the nation's pulse at any given moment.
You are what you consume
But I think there's another way to think about Elvis – one that might put into context many of the questions surrounding him.
Historian William Leuchtenburg once characterized Presley as a "consumer culture hero," a manufactured commodity more image than substance.
The assessment was negative; it also was incomplete. It didn't consider how a consumerist disposition may have shaped Elvis prior to his becoming an entertainer.
Presley reached adolescence as a post-World War II consumer economy was hitting its stride. A product of unprecedented affluence and pent-up demand caused by depression and wartime sacrifice, it provided almost unlimited opportunities for those seeking to entertain and define themselves.
The teenager from Memphis, Tennessee, took advantage of these opportunities. Riffing off the idiom "you are what you eat," Elvis became what he consumed.
During his formative years, he shopped at Lansky Brothers, a clothier on Beale Street that outfitted African American performers and provided him with secondhand pink-and-black ensembles.
He tuned into the radio station WDIA, where he soaked up gospel and rhythm and blues tunes, along with the vernacular of black disk jockeys. He turned the dial to WHBQ's "Red, Hot, and Blue," a program that had Dewey Phillips spinning an eclectic mix of R&B, pop and country. He visited Poplar Tunes and Home of the Blues record stores, where he purchased the music dancing in his head. And at the Loew's State and Suzore #2 movie theaters, he took in the latest Marlon Brando or Tony Curtis movies, imagining in the dark how to emulate their demeanor, sideburns, and ducktails.
In short, he gleaned from the nation's burgeoning consumer culture the persona that the world would come to know. Elvis alluded to this in 1971 when he provided a rare glimpse into his psyche upon receiving a Jaycees Award as one of the nation's Ten Outstanding Young Men:
"When I was a child, ladies and gentlemen, I was a dreamer. I read comic books, and I was the hero of the comic book. I saw movies, and I was the hero in the movie. So every dream I ever dreamed has come true a hundred times … I'd like to say that I learned very early in life that 'without a song, the day would never end. Without a song, a man ain't got a friend. Without a song, the road would never bend. Without a song.' So, I'll keep singing a song."
In that acceptance speech, he quoted "Without a Song," a standard tune performed by artists including Bing Crosby, Frank Sinatra, and Roy Hamilton – seamlessly presenting the lyrics as if they were words directly applicable to his own life experiences.
A loaded question
Does this make the Jaycees recipient some sort of "odd, lonely child reaching for eternity," as Tom Parker, played by Tom Hanks, tells an adult Presley in the new "Elvis" film?
I don't think so. Instead, I see him as someone who simply devoted his life to consumption, a not uncommon late 20th-century behavior. Scholars have noted that whereas Americans once defined themselves through their genealogy, jobs, or faith, they increasingly started to identify themselves through their tastes – and, by proxy, what they consumed. As Elvis crafted his identity and pursued his craft, he did the same.
It also was evident in how he spent most of his downtime. A tireless worker on stage and in the recording studio, those settings nevertheless demanded relatively little of his time. For most of the 1960s, he made three movies annually, each taking no more than a month to complete. That was the extent of his professional obligations.
From 1969 to his death in 1977, only 797 out of 2,936 days were devoted to performing concerts or recording in the studio. Most of his time was dedicated to vacationing, playing sports, riding motorcycles, zipping around on go-karts, horseback riding, watching TV, and eating.
By the time he died, Elvis was a shell of his former self. Overweight, bored, and chemically dependent, he appeared spent. A few weeks before his demise, a Soviet publication described him as "wrecked" – a "pitilessly" dumped product victimized by the American consumerist system.
Elvis Presley proved that consumerism, when channeled productively, could be creative and liberating. He likewise demonstrated that left unrestrained, it could be empty and destructive.
Luhrmann's movie promises to reveal a great deal about one of the most captivating and enigmatic figures of our time. But I have a hunch it will also tell Americans a lot about themselves.
"Who are you, Elvis?" the trailer hauntingly probes.
Maybe the answer is easier than we think. He's all of us.
Michael T. Bertrand does not work for, consult, own shares in or receive funding from any company or organisation that would benefit from this article, and has disclosed no relevant affiliations beyond their academic appointment.
Photos: Remembering Elvis Presley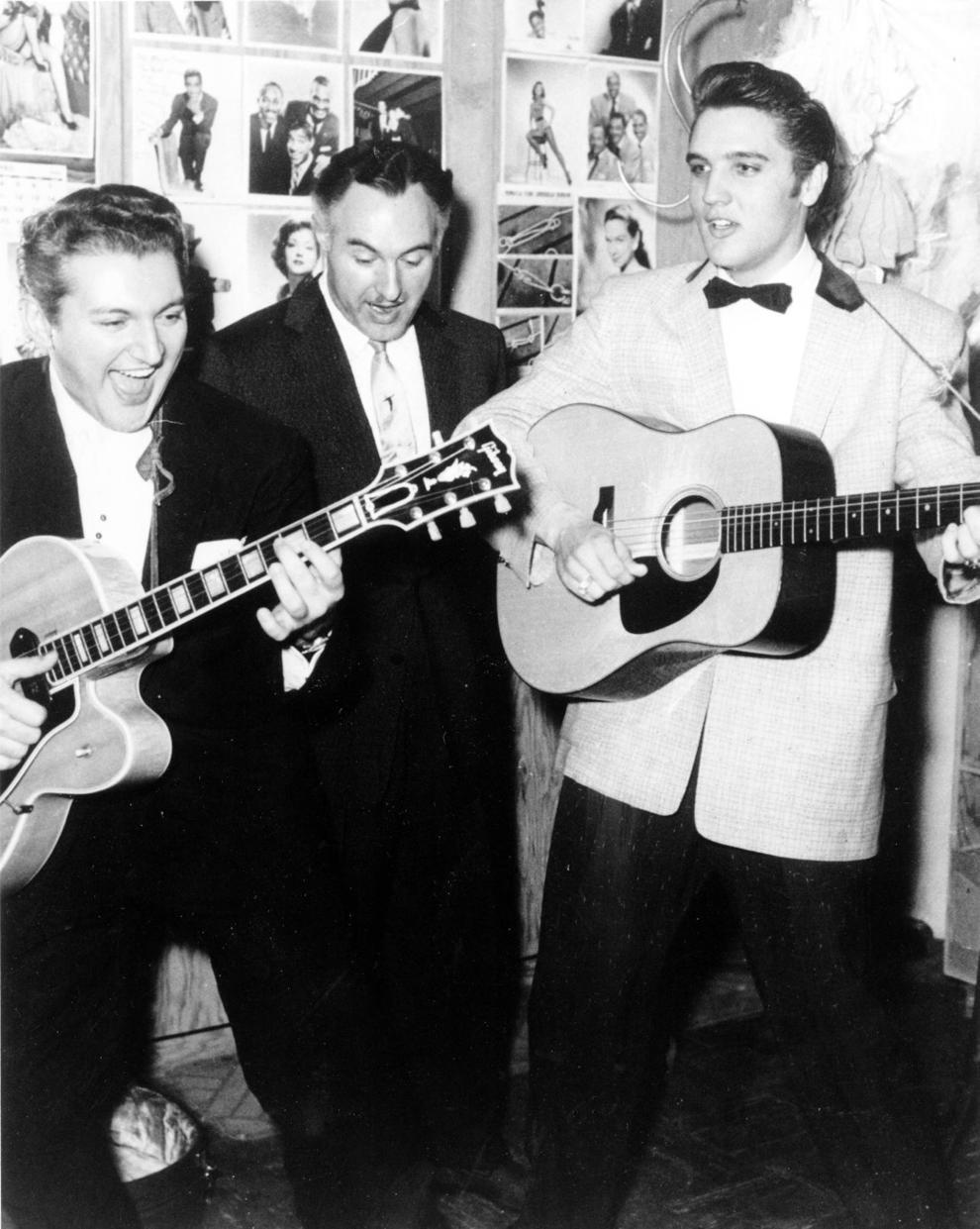 Liberace, left, is shown with his brother George Liberace, center, and Elvis Presley, at the New Frontier Hotel in Las Vegas on April 30, 1956. (AP Photo)
AP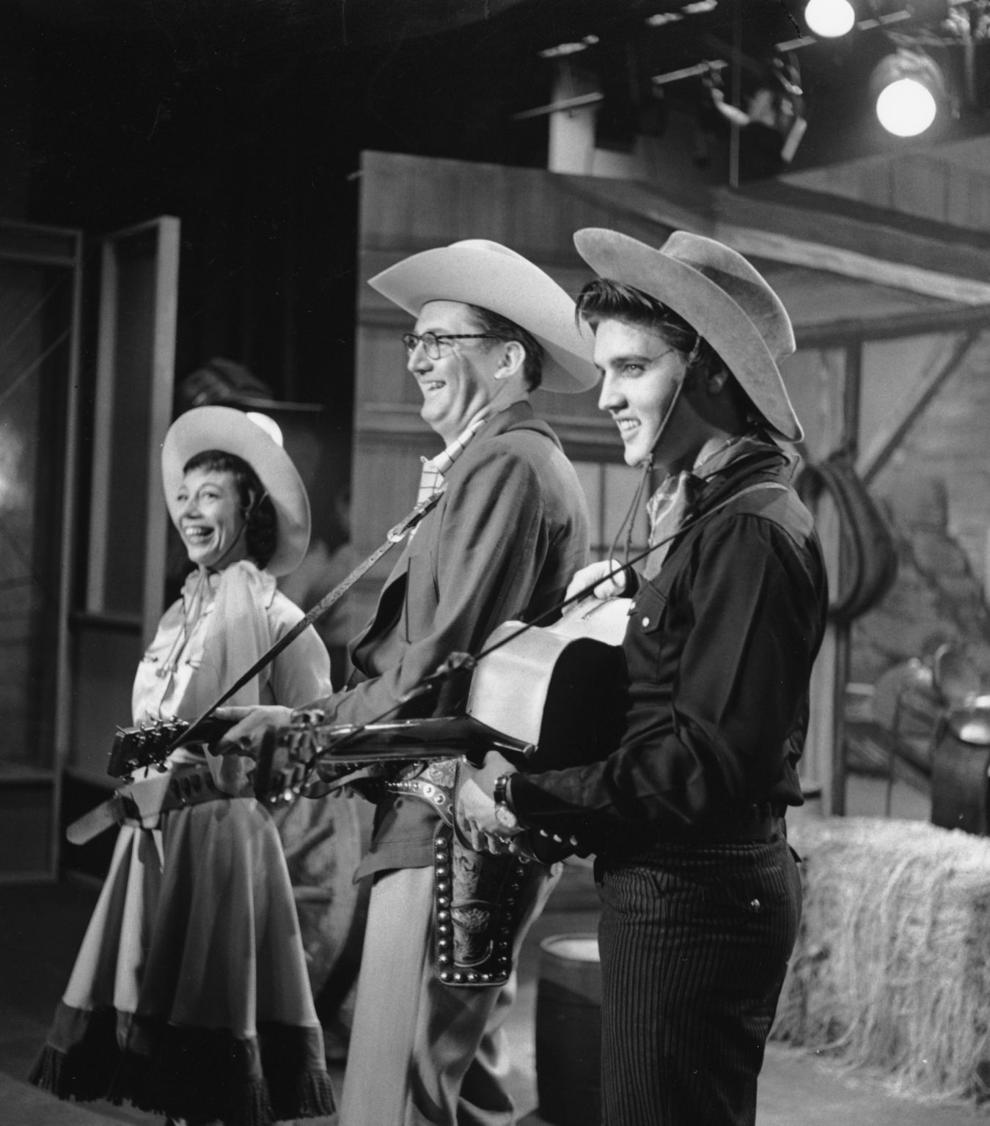 Singer Elvis Presley is shown performing on the television program "The Steve Allen Show" at the Hudson Theatre in New York in July 1956. At center is Steve Allen, and to his right is Imogene Coca. (AP Photo)
AP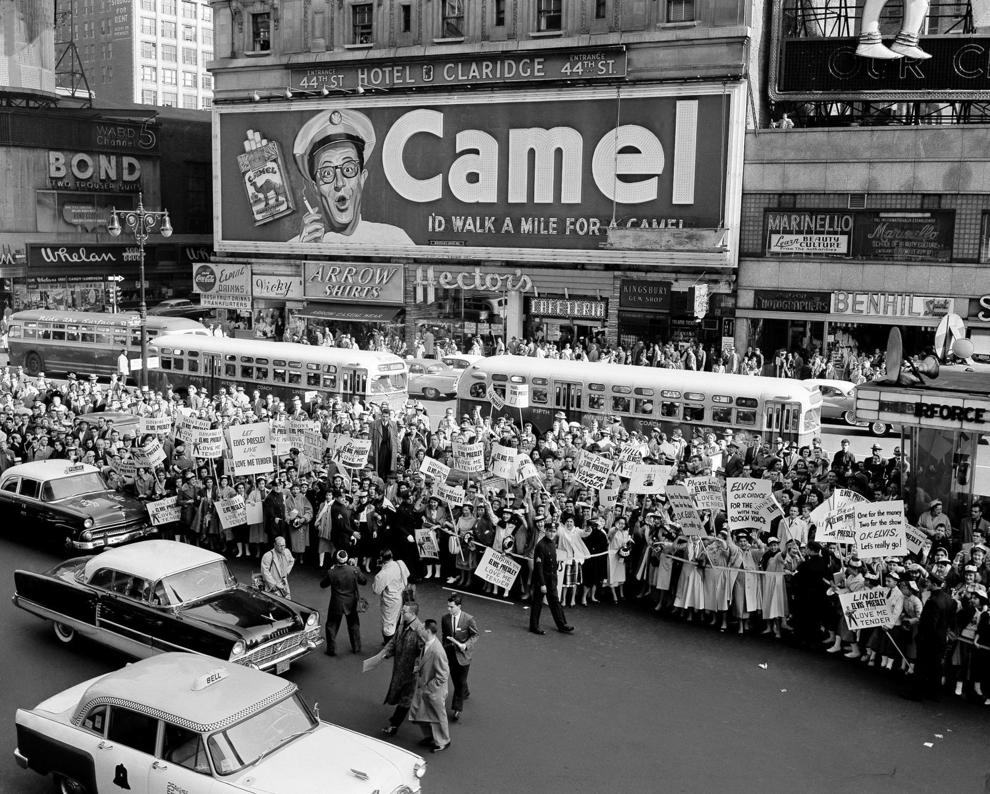 Some 1,000 teenagers, carrying placards, attend the unveiling of a 40-foot cardboard likeness of Elvis Presley on a marquee outside Paramount Theater, New York, on Oct. 28,1956. Failure of Elvis Presley to appear is said to have made it easier for 15 policemen assigned to keep order among the mostly high school aged fans. (AP Photo/John Lindsay)
John Lindsay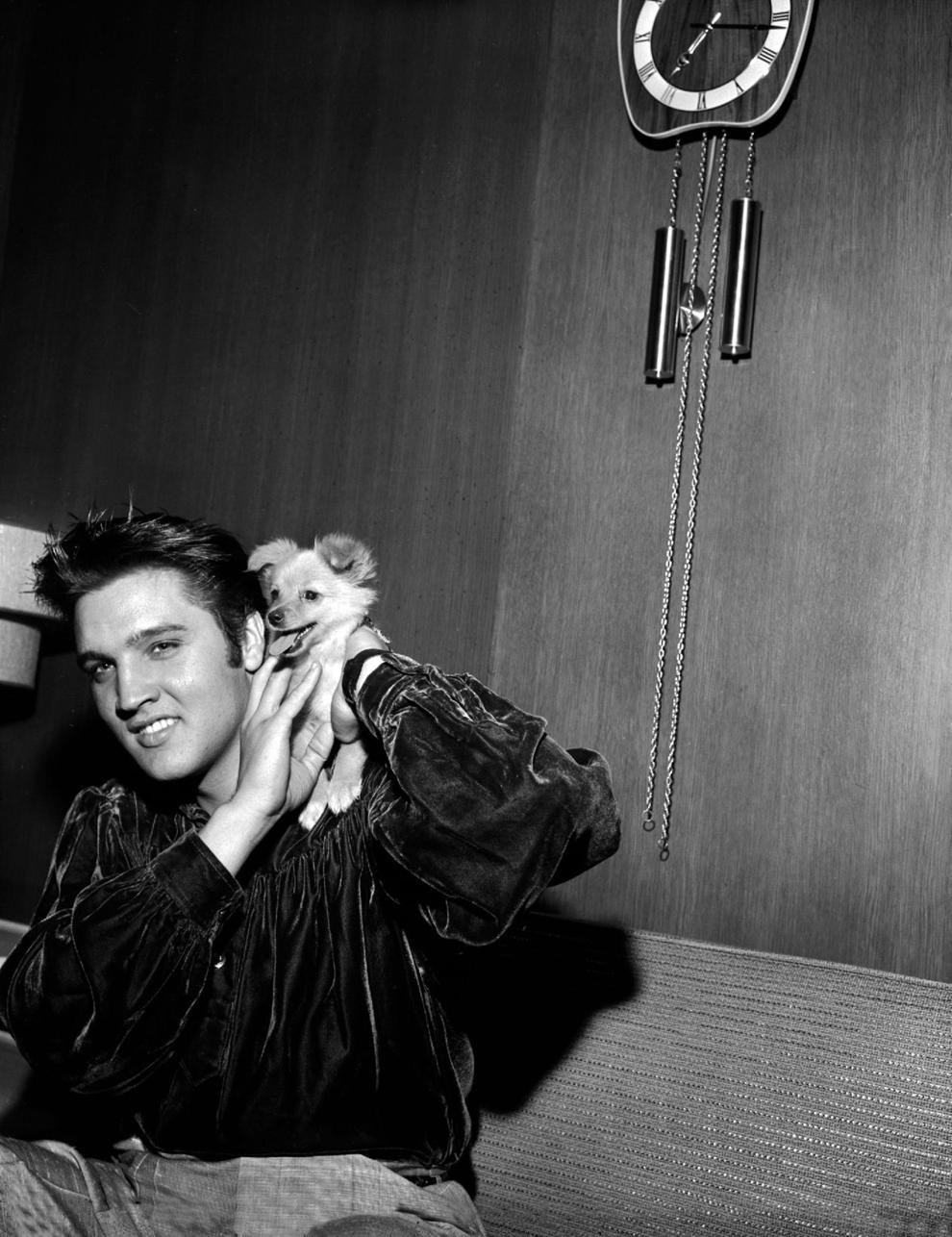 Rock and roll star Elvis Presley plays with his puppy Sweet Pea after a brief fistfight the evening of Oct. 18, 1956 with two filling station attendants, one of whom received a black eye. Presley said one of the men slapped him as he was signing autographs. All were scheduled to appear in court the following day. (AP Photo/Gene Herrick)
GENE HERRICK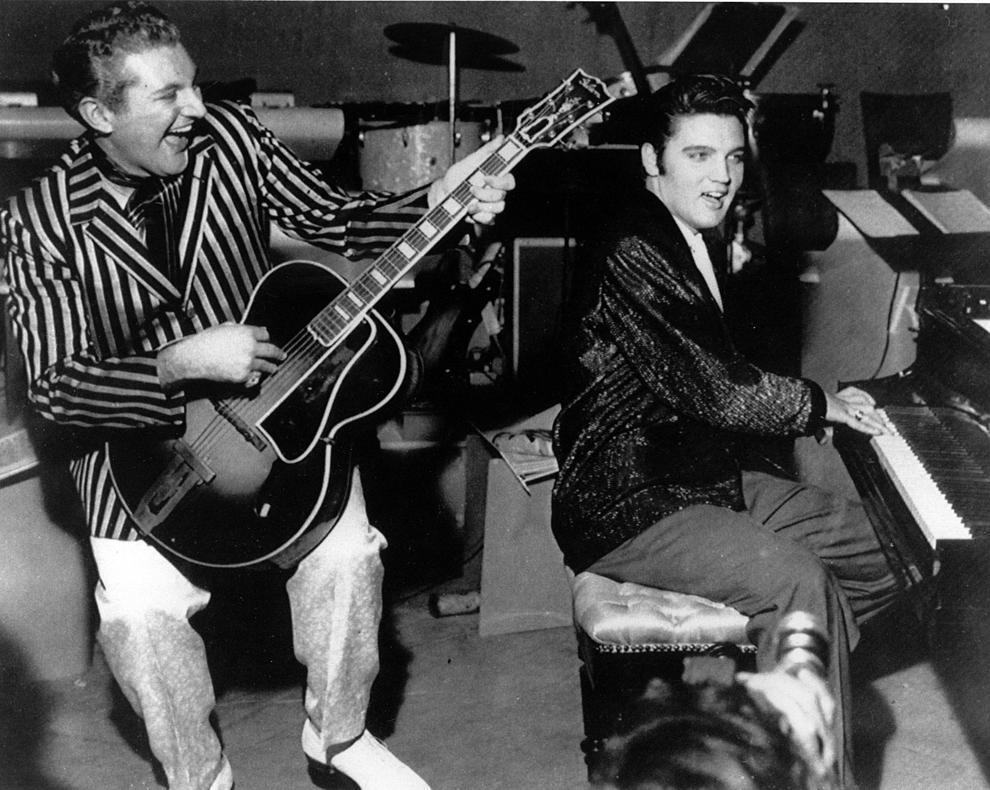 Piano virtuoso Liberace is shown playing the guitar with Elvis Presley at the piano in November 1956 at the Riviera Hotel in Las Vegas. (AP Photo)
AP
This unidentified teenager found Elvis Presley "too much" when he appeared at the Philadelphia Arena in Philadelphia, Pa., on April 6, 1957. (AP Photo/Bill Ingraham)
Bill Ingraham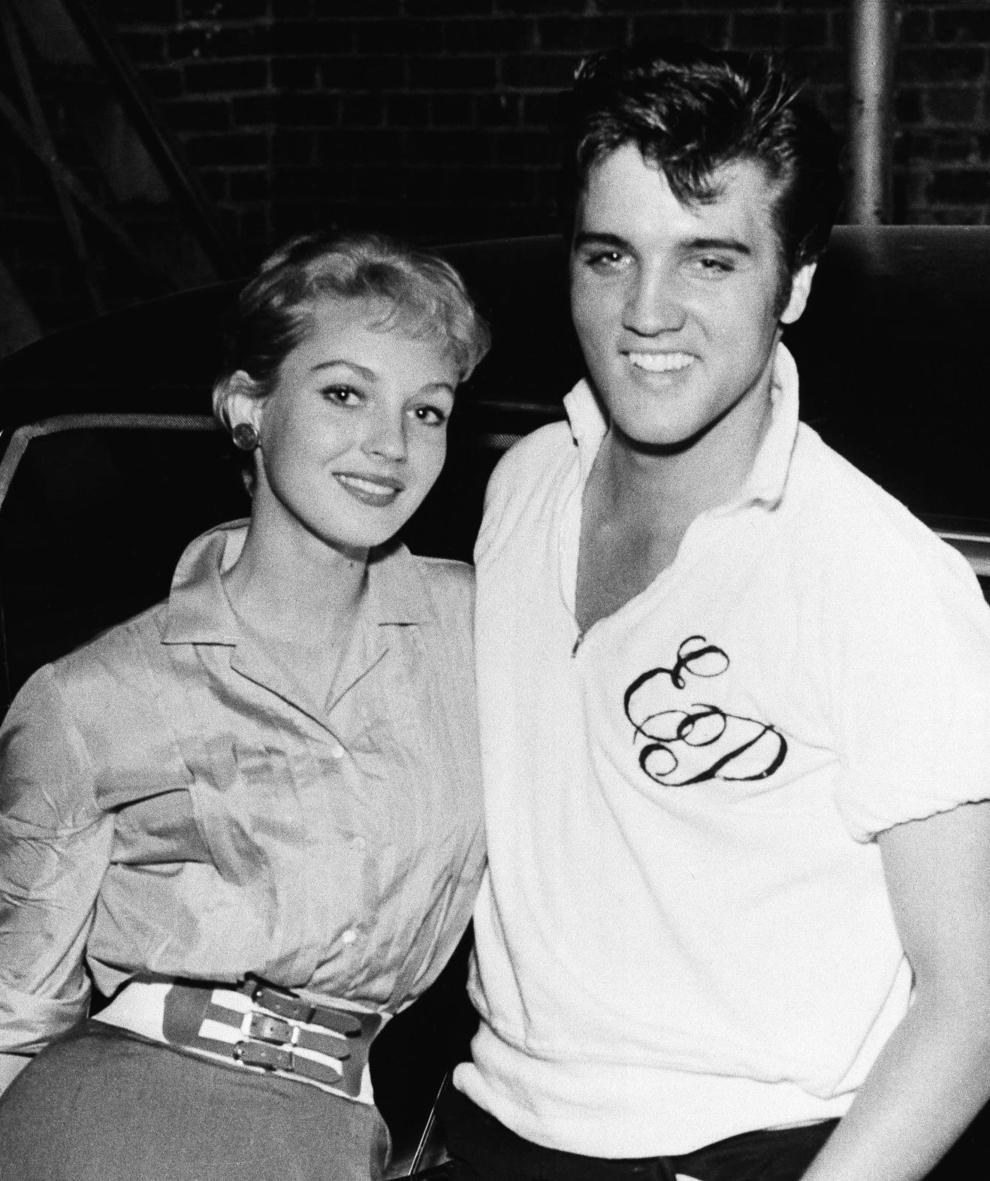 Elvis Presley, right, poses with actress Venetia Stevenson in Memphis, Aug. 9, 1957. (AP Photo)
Anonymous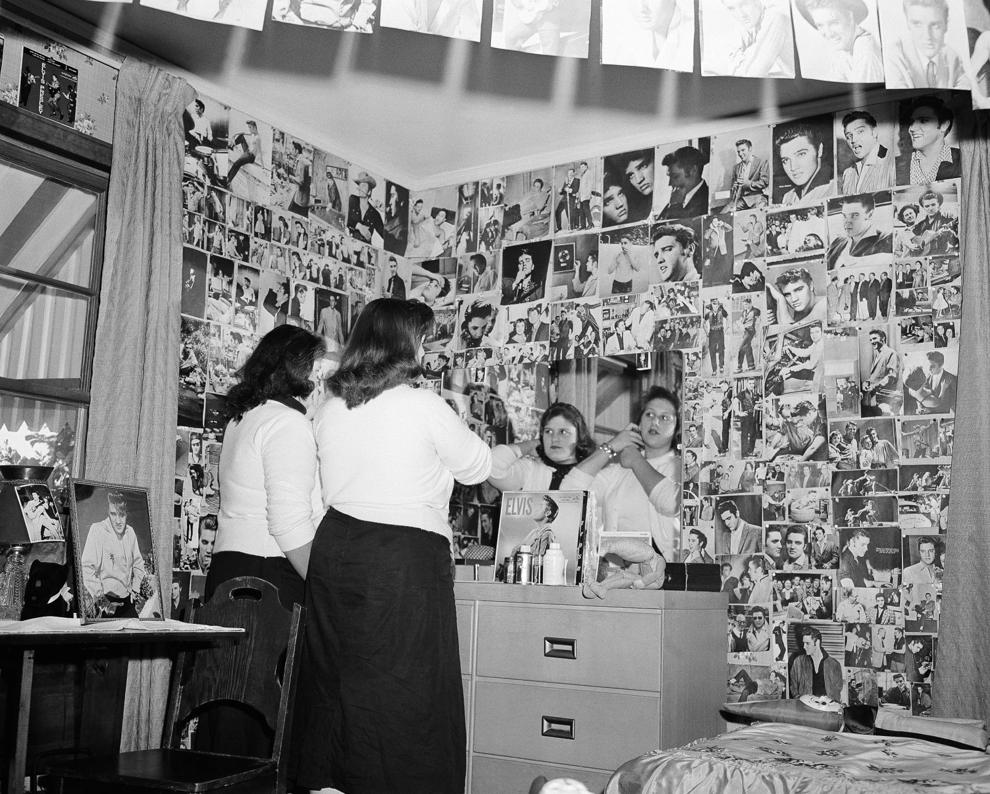 Surrounded by pictures of Elvis Presley, Oralee Davolt, 15, left, and her sister Sharyn, 14, primp at the mirror in their bedroom in Memphis, Tenn., on April 15, 1957. The girls have collected 1,087 pictures of Elvis, as well as Elvis neckties, hats, bracelets, handkerchiefs, scarfs, and records. (AP Photo/Fred J. Griffith)
FRED J. GRIFFITH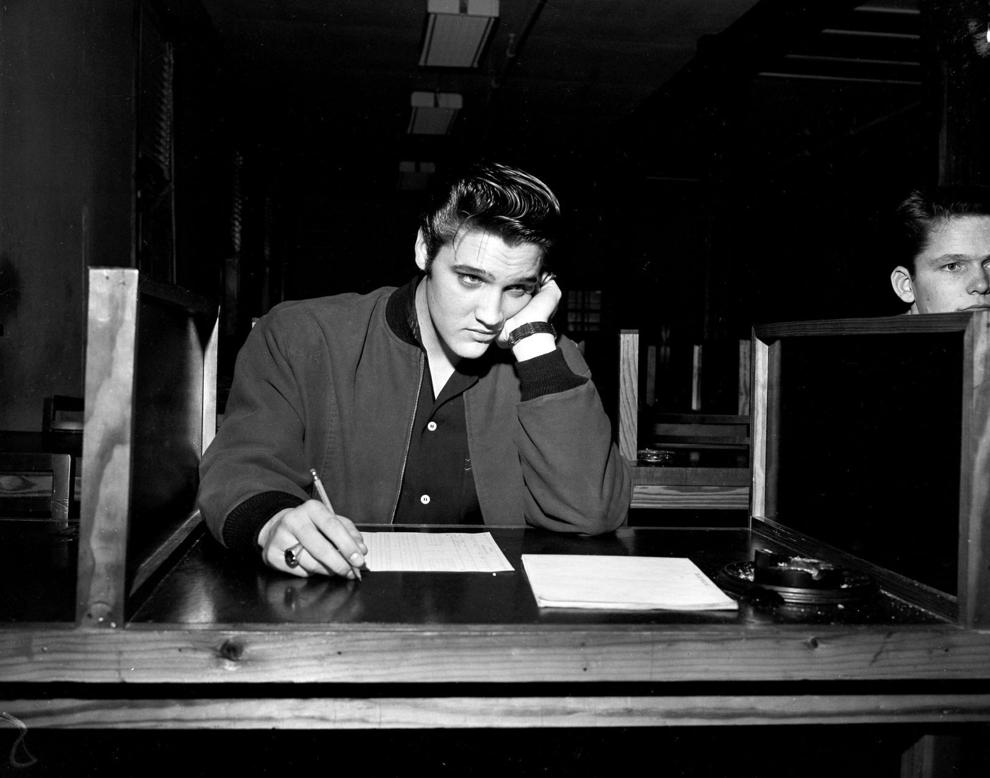 Singer Elvis Presley, 21, takes his pre-induction written examination as he is processed for the U.S. Army in Memphis, Tenn., Jan. 4, 1957. (AP Photo)
AP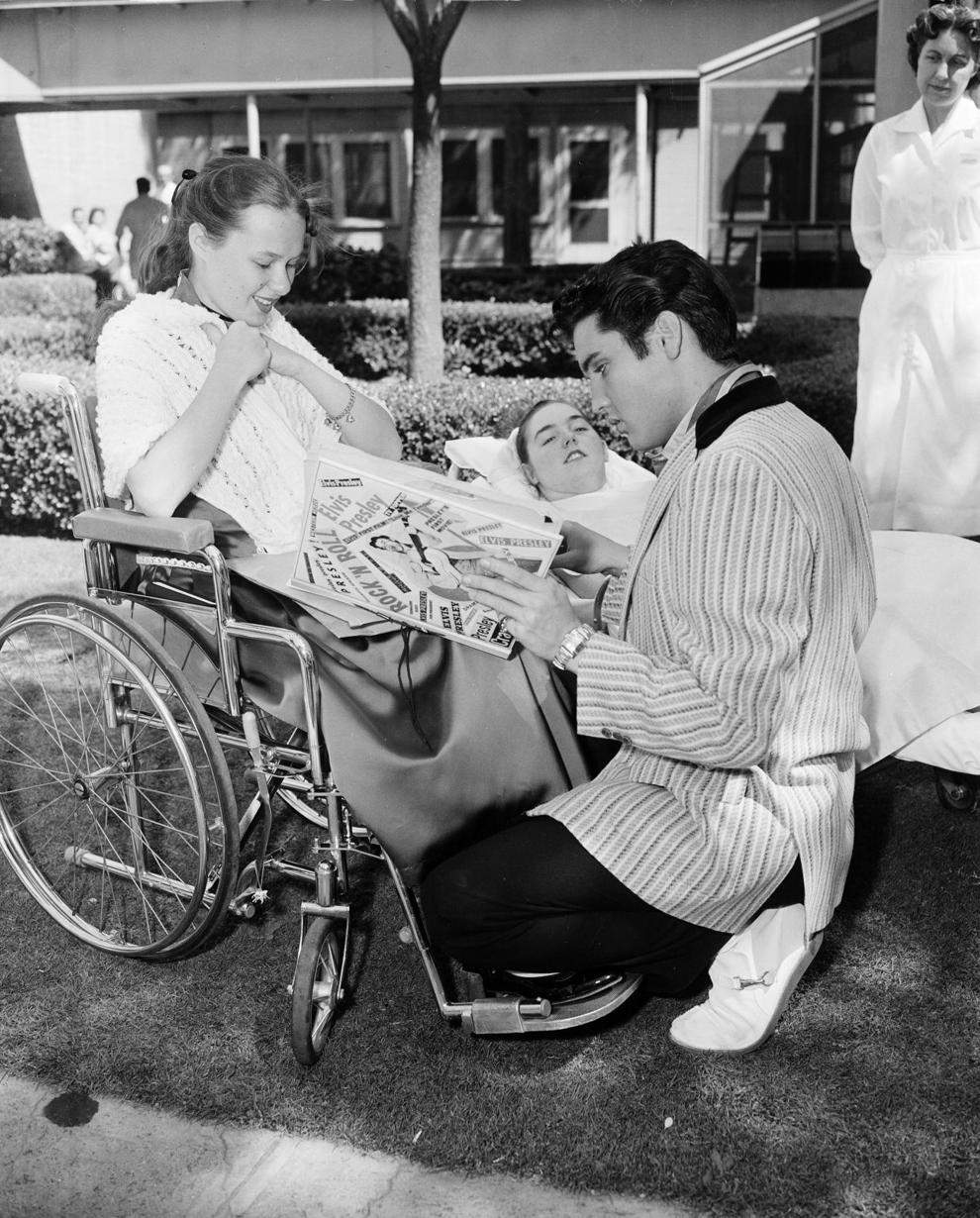 Singer Elvis Presley (right) meets polio victims Beth Currier, left, and Elaine Brockway in an unspecified location in California, May, 17,1957. Beth, 14, now confined to a wheelchair, presents Presley with a scrapbook, made mostly using her mouth. Elaine, 18, is paralyzed from the neck down. (AP Photo)
AP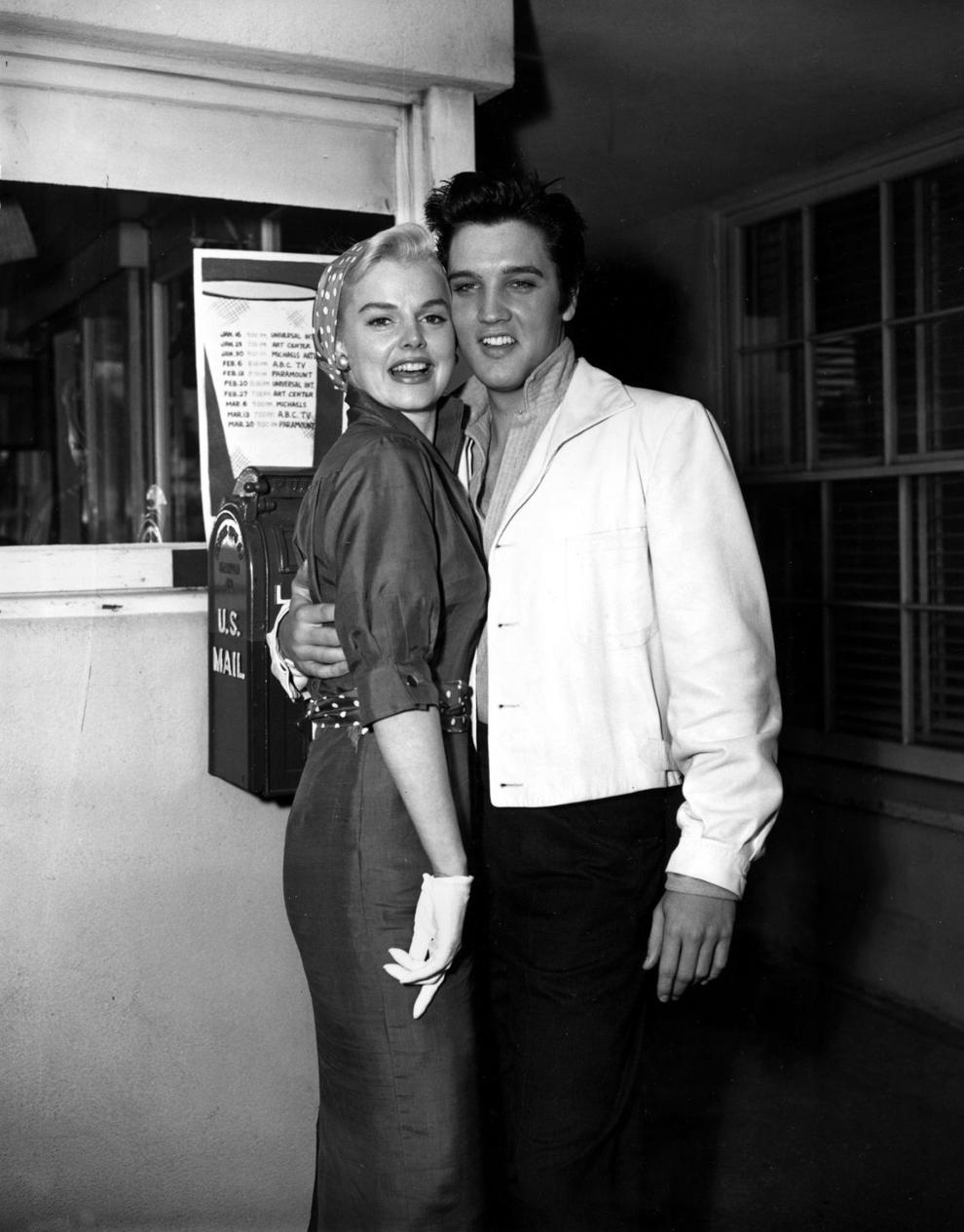 Elvis Presley poses with co-star Barbara Lang in Los Angeles, Ca., in April 1957. (AP Photo)
ASSOCIATED PRESS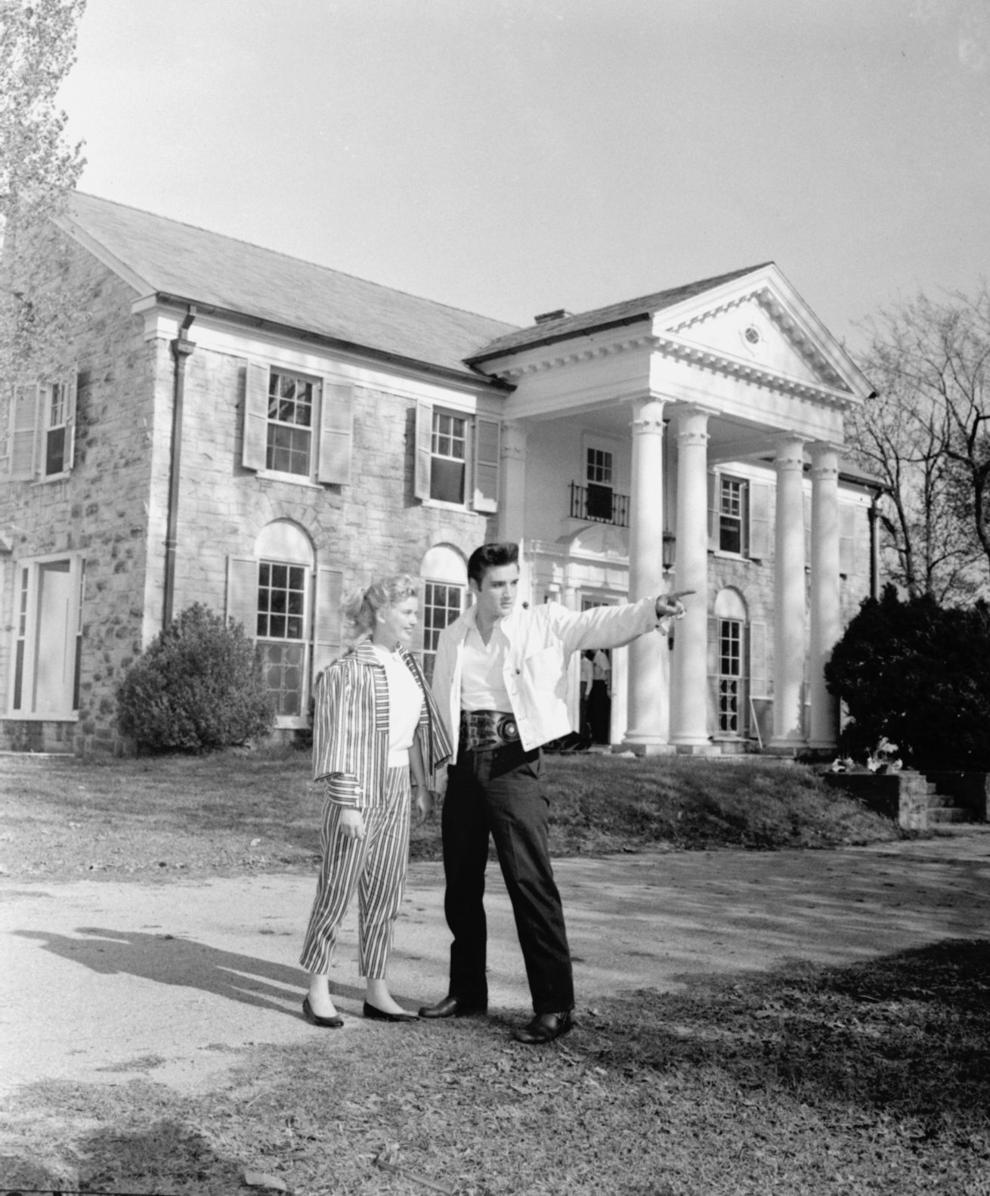 Elvis Presley, the teenager's rock and roll idol, shows his new $100,000 home to Hollywood starlet Yvonne Lime, who flew in to spend Easter weekend with Presley and his parents, in Memphis, Tenn., April 19, 1957. (AP Photo)
ASSOCIATED PRESS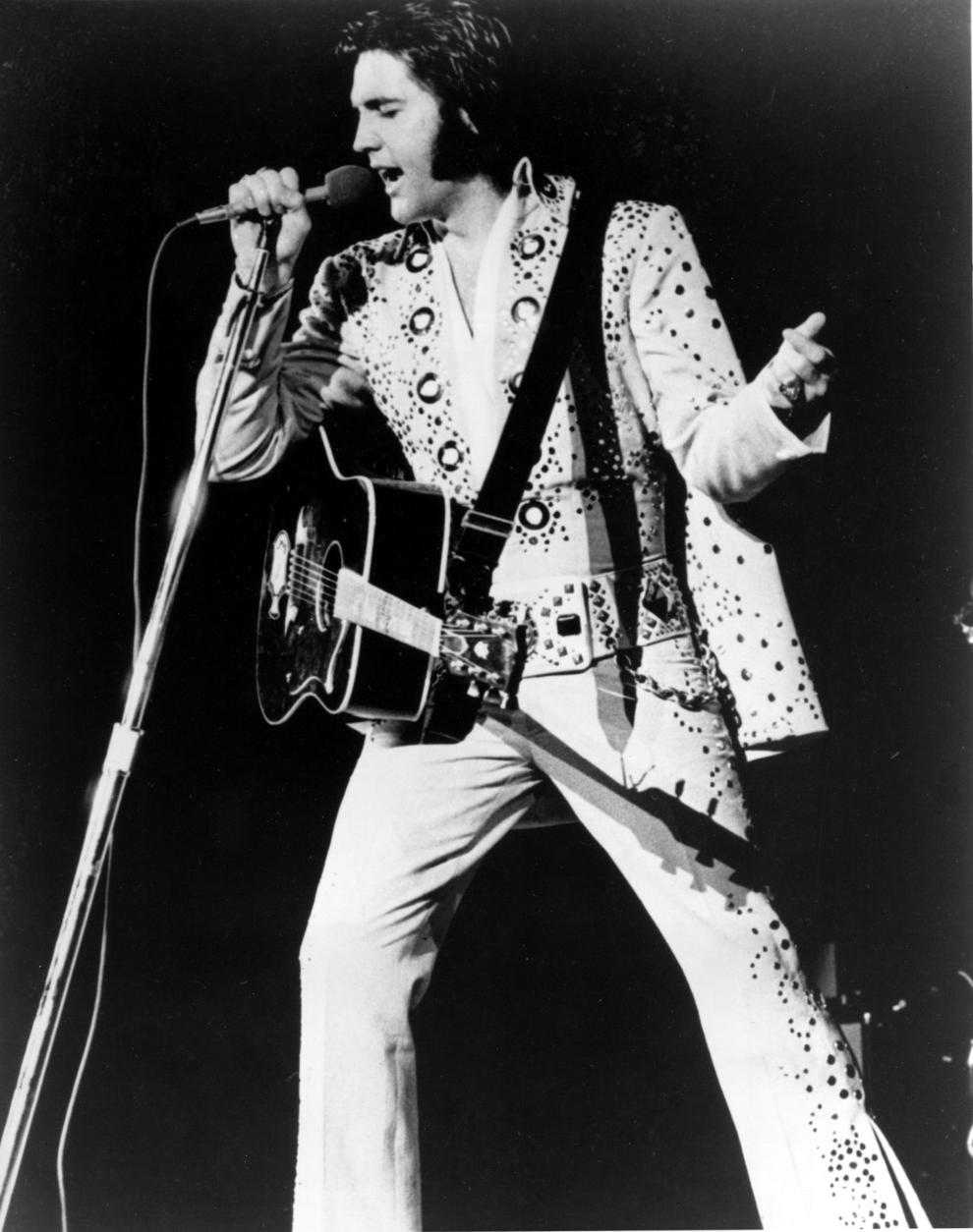 Elvis Presley is shown performing in this undated photo at an unknown location. (AP Photo)
AP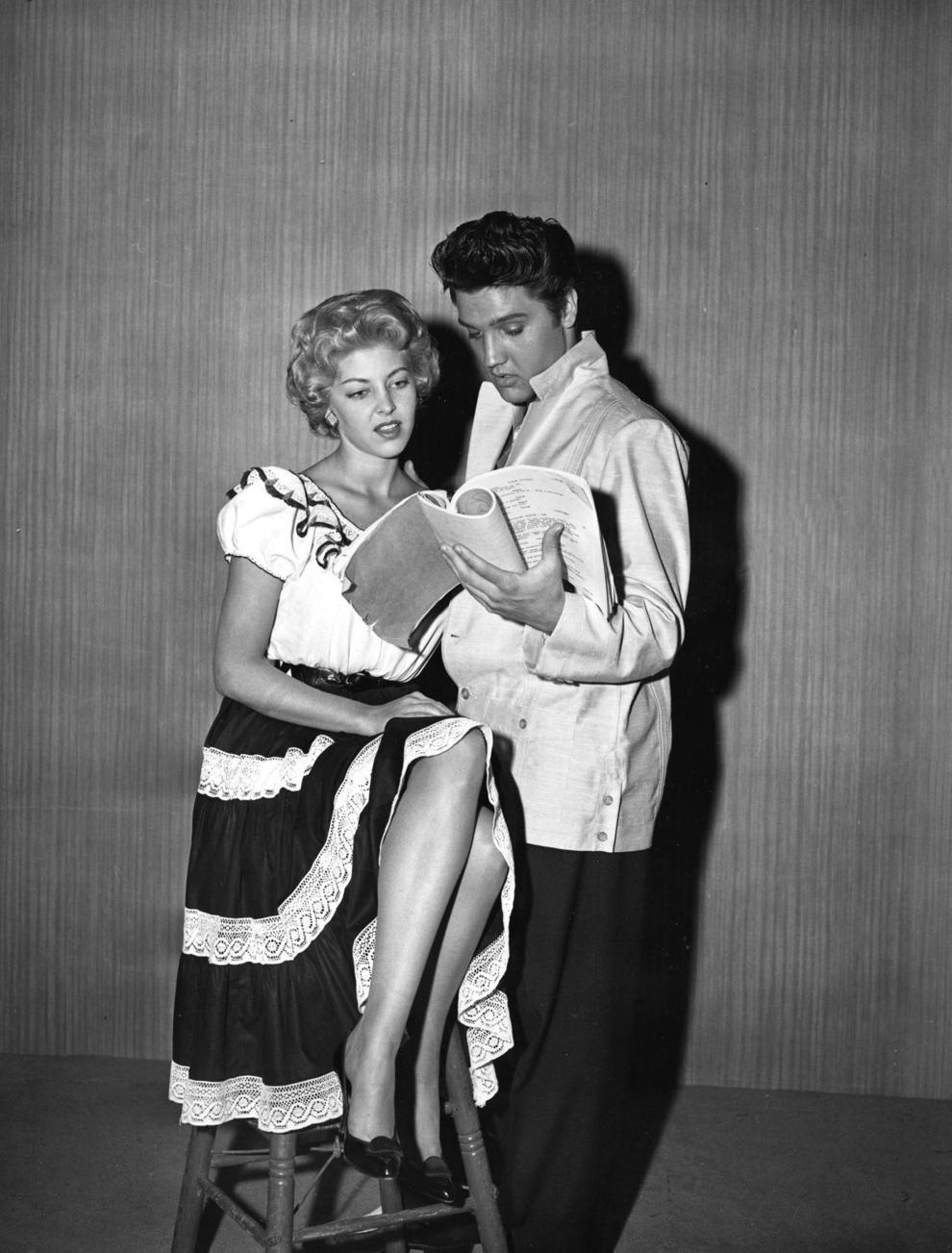 Singer-actor Elvis Presley, right, and co-star and companion Anne Neyland of Texas read over the script of the musical movie "Jailhouse Rock" at MGM studios in Hollywood, Ca., June 6, 1957. (AP Photo)
ASSOCIATED PRESS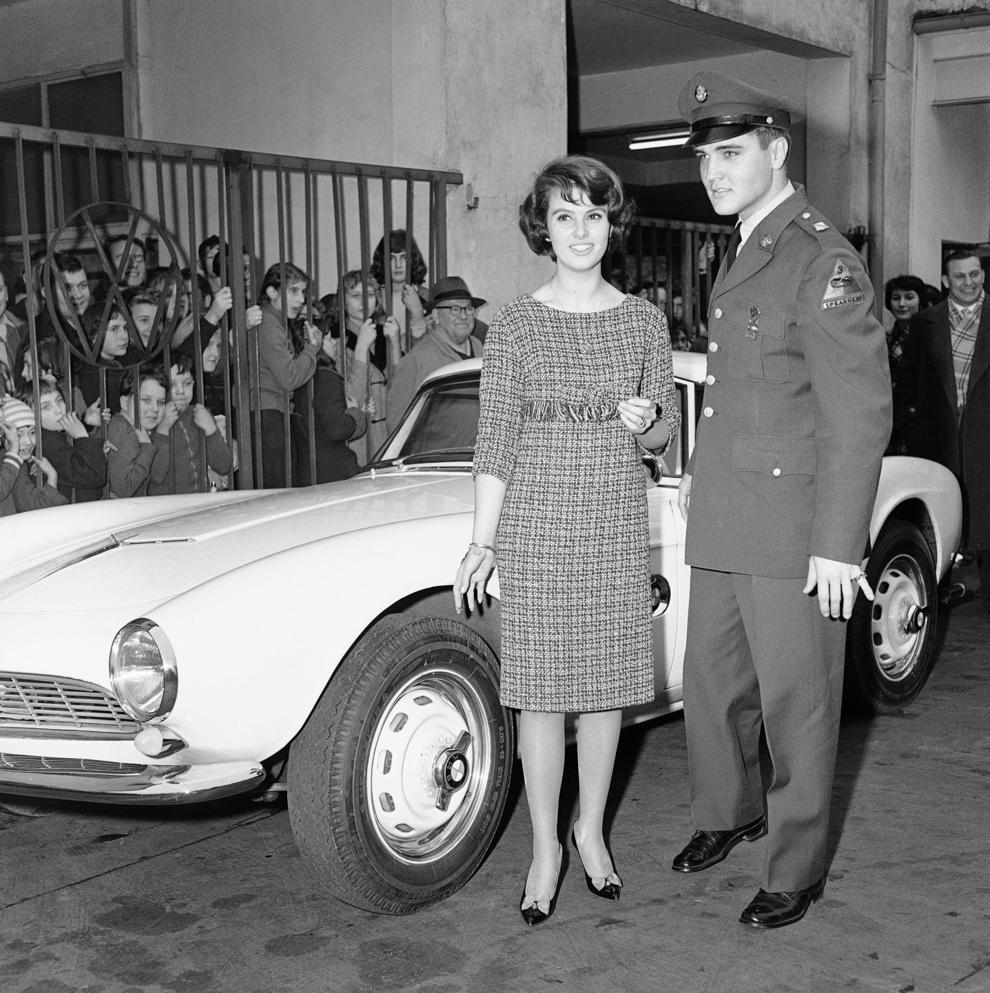 Pfc. Elvis Presley shown with Ursula Siebert in front of German sports car at Frankfurt, West Germany, auto agency on Dec. 20, 1958. Curious youngsters crowd railing at left for a look at Elvis who is stationed on base at nearby Friedberg. The car, a BMW 507, made by the Bavarian Motor Co., is a sleek two-seater, painted white on the outside and upholstered with white and black leather inside. Dealer said he had sold the car, a used demonstration model, to Elvis for $3,750. When new, it could cost about $7,500. (AP Photo/Kurt Strumpf)
Kurt Strumpf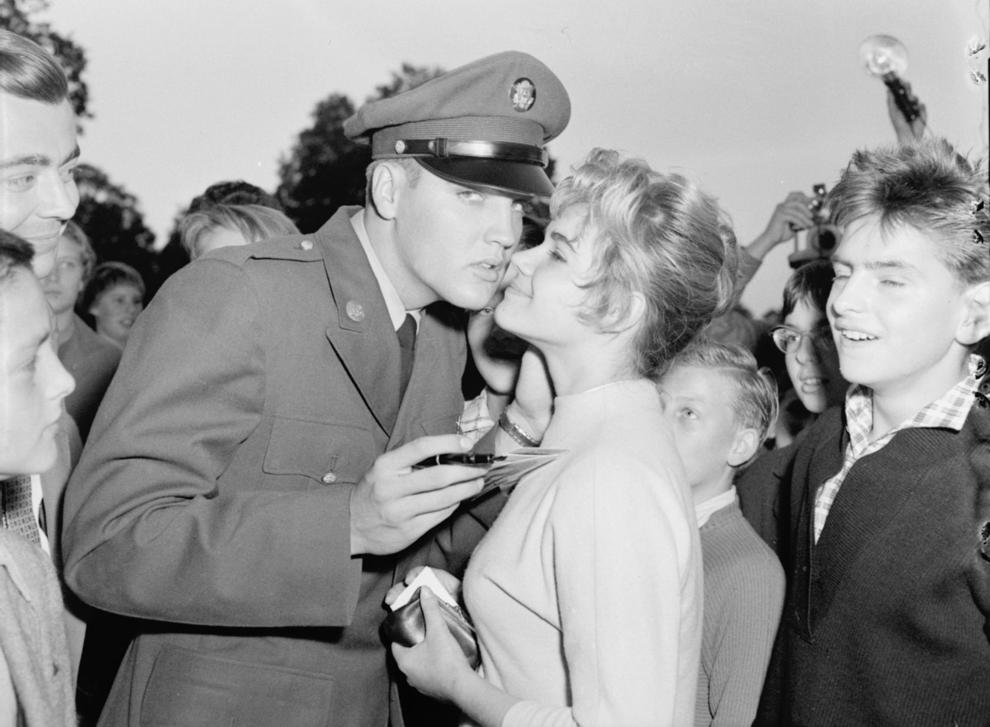 Seventeen year old Margit Burgin of Frankfurt is kissed by Pvt. Elvis Presley at the request of photographers in Bad Homburg, West Germany October 8, 1958. Presley, assigned to the Third Armored Division at Friedberg, was at liberty on a weekend pass and spent most of the time with his father and grandmother in Bad Homburg. (AP Photo)
FKT
Pvt. Elvis Presley, assigned to the U.S. Army's 3rd Armored Division, poses in the driver's seat of an army tank at Friedberg, West Germany, Oct. 3, 1958. (AP Photo)
ASSOCIATED PRESS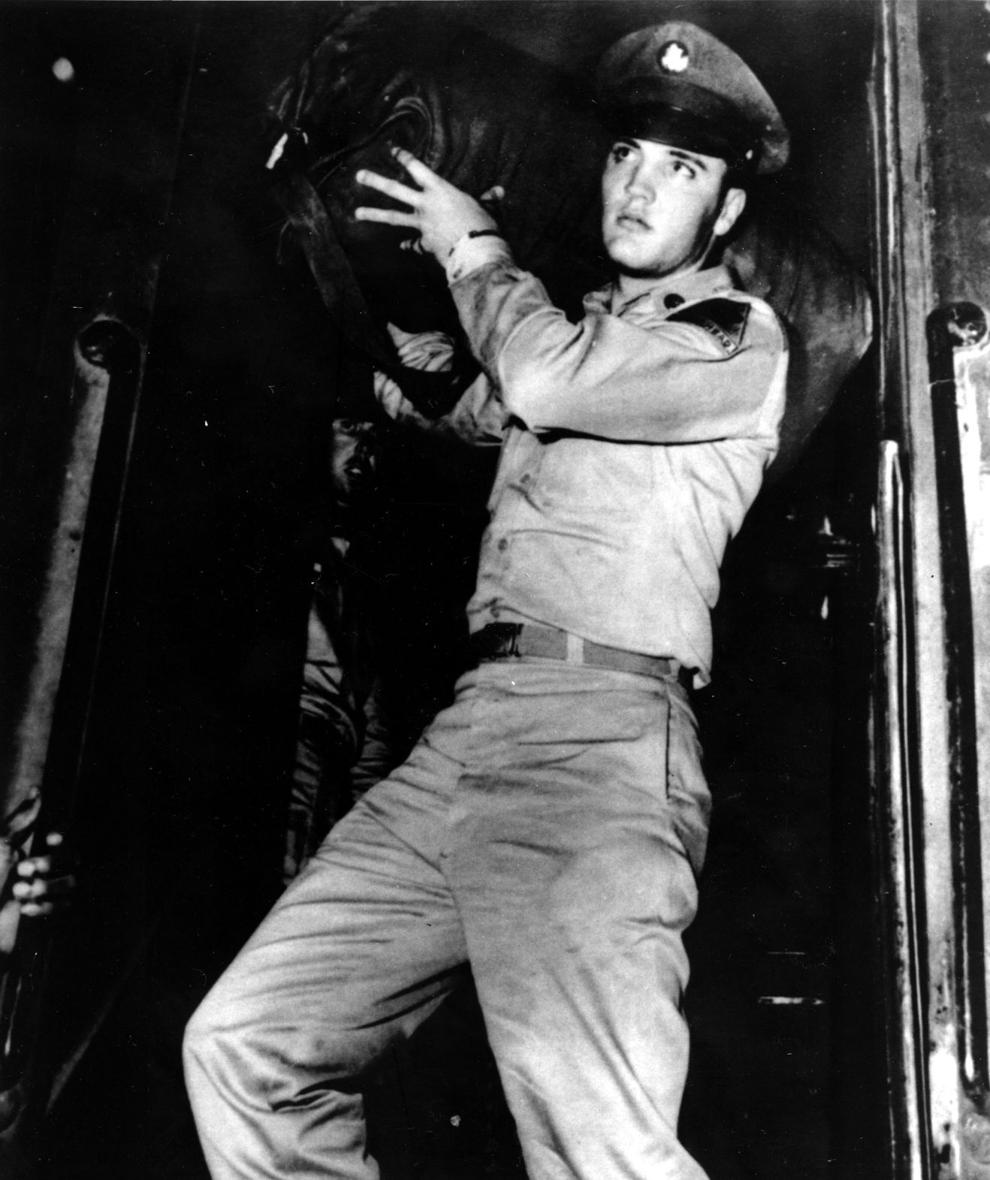 U.S. Army G.I. Elvis Presley carries his duffel bag during service in the army in 1958 at an unknown location. (AP Photo)
ASSOCIATED PRESS
Singer Elvis Presley gets a kiss from eight-year-old Mary Kosloski at his home in Memphis, Tenn., on his 23rd birthday, Jan. 8, 1958. Kosloski, the 1955 March of Dimes poster child, expresses her appreciation for the toy teddy bears Presley sent to the National Foundation for Infantile Paralysis to be auctioned off to raise money for the March of Dimes. (AP Photo)
AP
Private Elvis Presley is shown at the piano in the rec hall, Headquarters Company, Third Armored Division, in Friedberg, Hesse, West Germany in the Spring of 1959. (AP Photo)
ASSOCIATED PRESS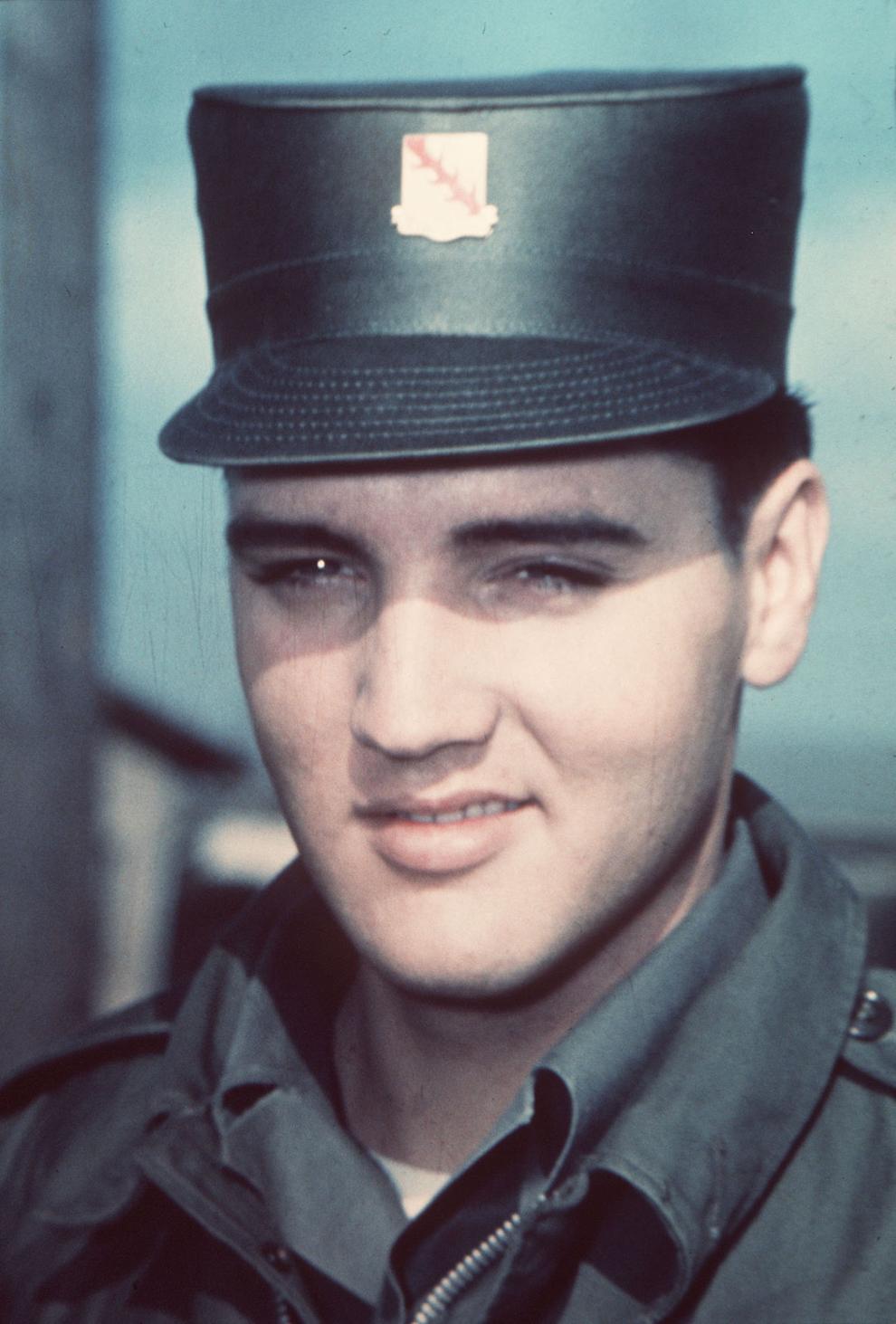 ELVIS PRESLEY: … the "Pelvis", in Army uniform at Company "D" 1st Battalion 32nd Armor, barracks area, Friedberg, West Germany. Undated picture. (AP-Photo)
AP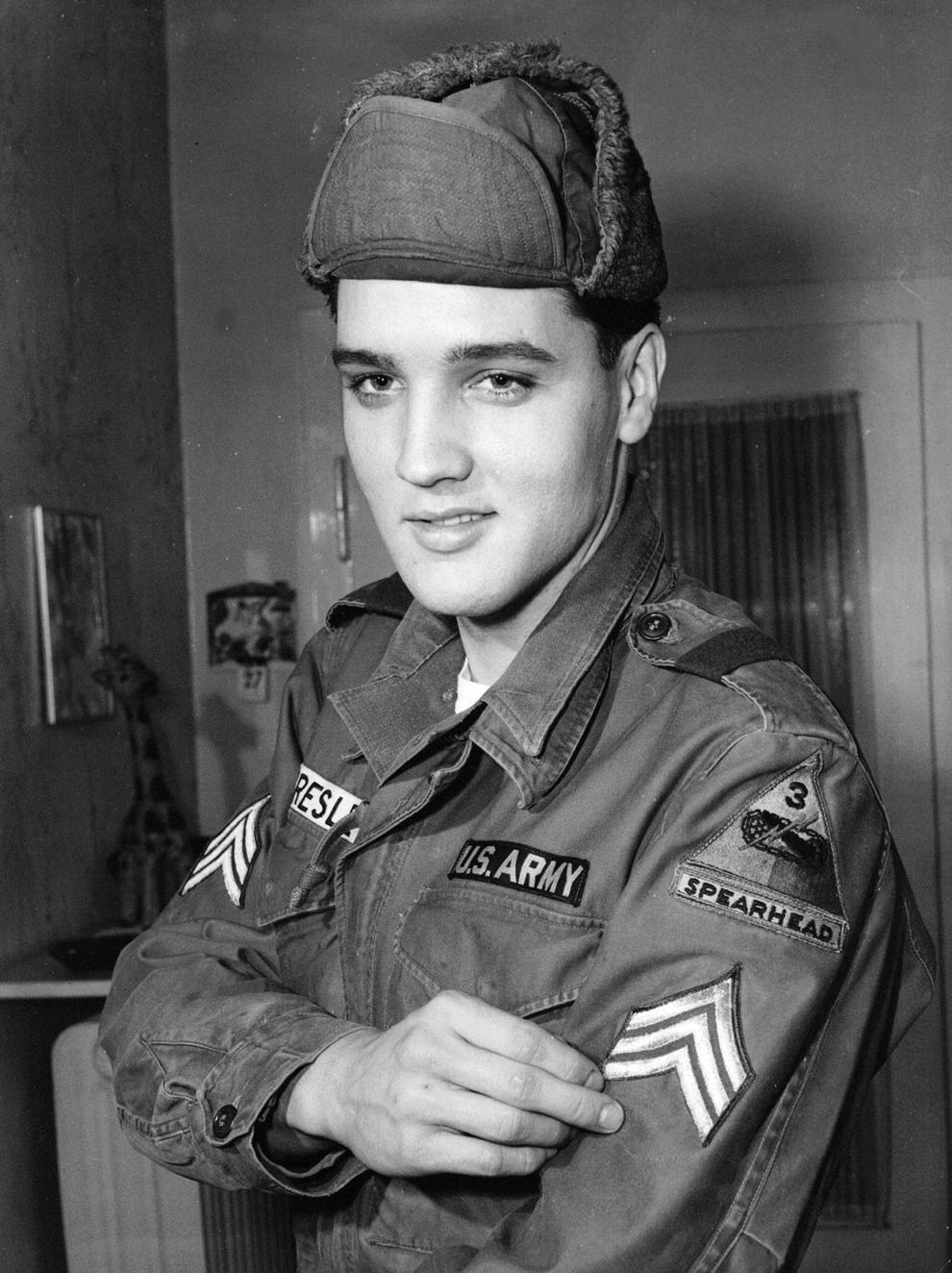 The file photo from January 21, 1960 shows Elvis Presley in a US Army uniform during his military service in Bad Nauheim, Germany. (AP Photo)
ASSOCIATED PRESS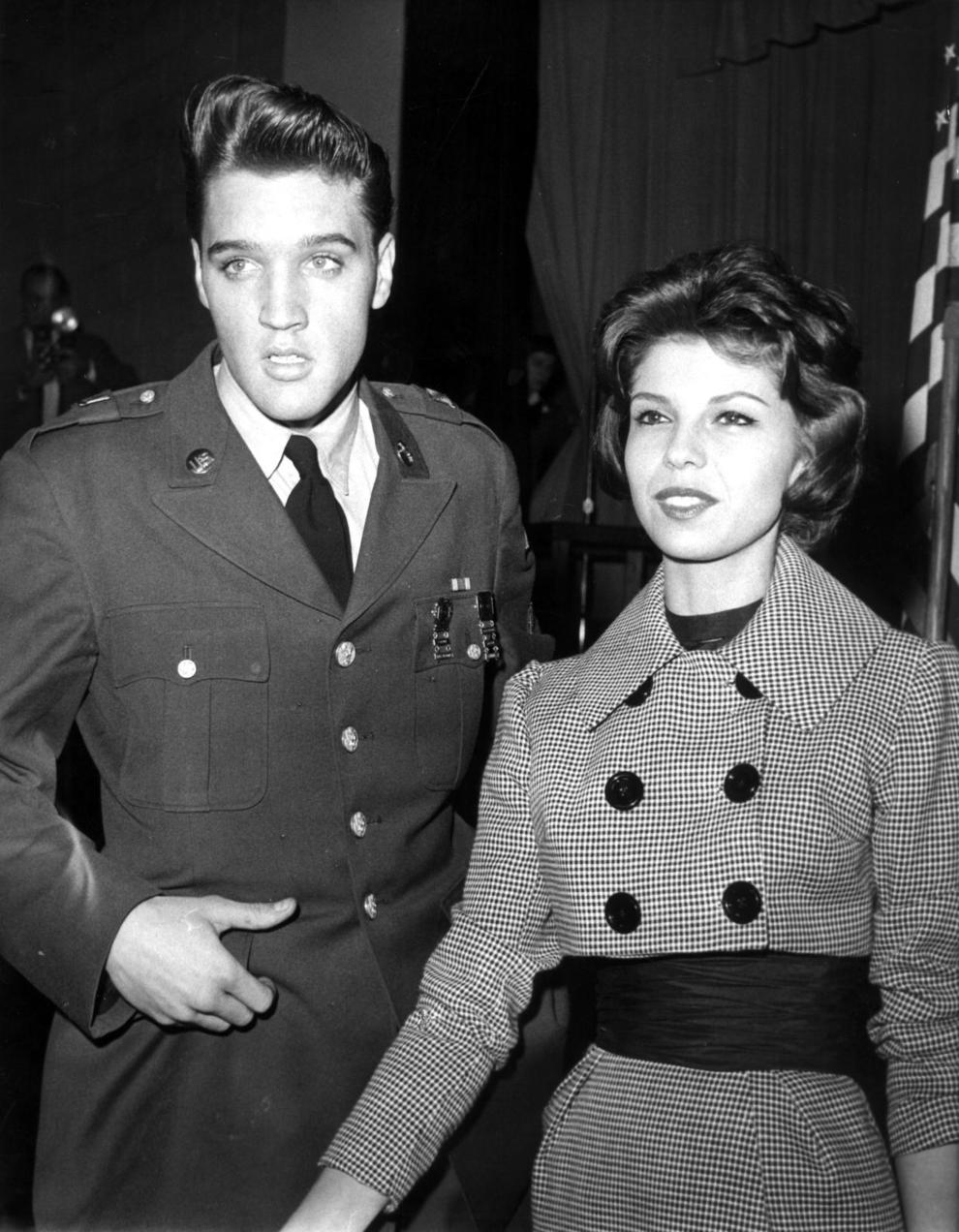 Rock'n Roll star Elvis Presley is welcomed by Nancy Sinatra at the airport of Fort Dix, N.J. on March 3, 1960. The famous singer has returned to the USA after finishing his military service in Germany. (AP Photo)
STR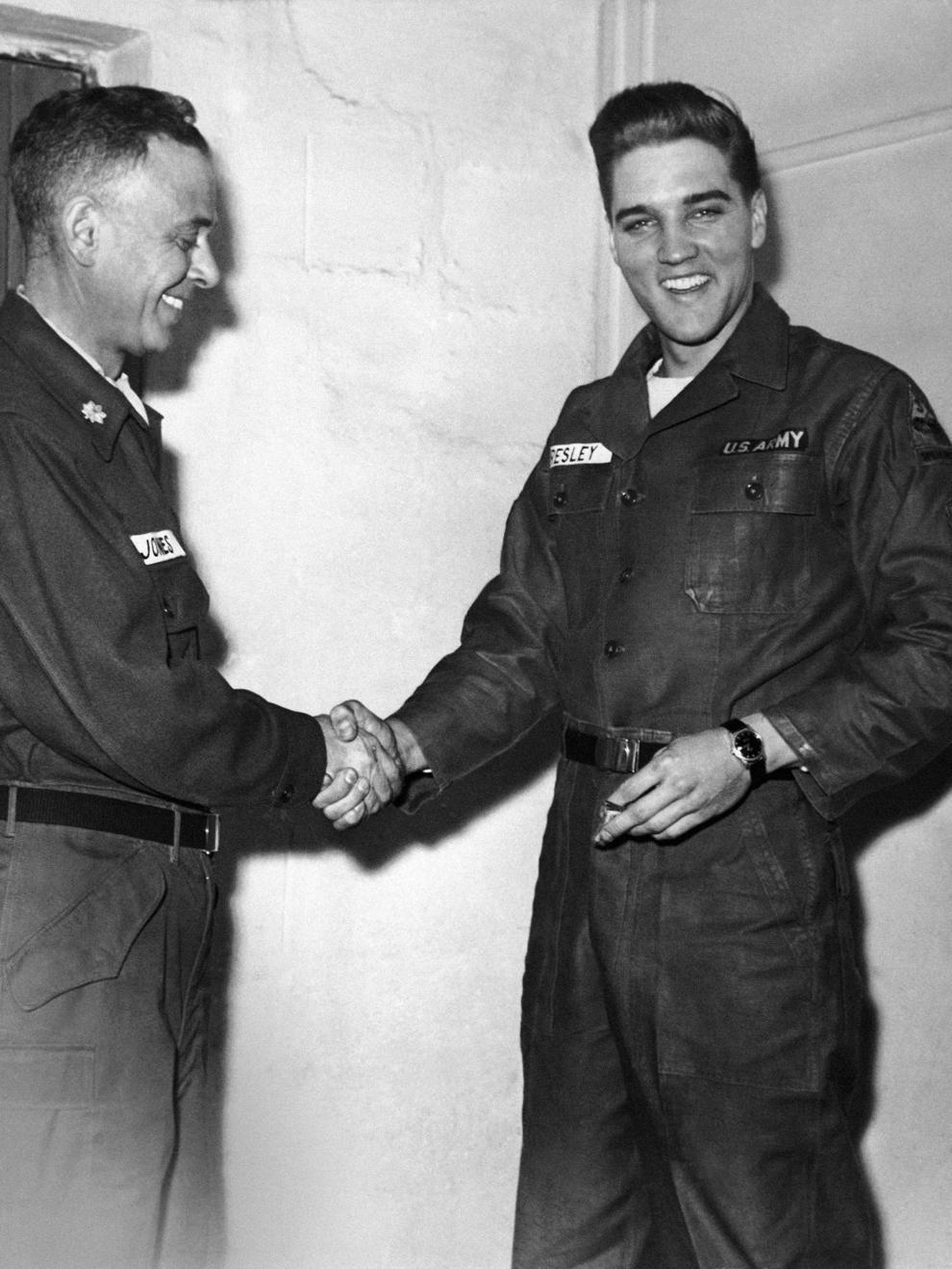 Orders for his promotion to sergeant brought on a handshake for US Rock'n'Roll singer Elvis Presley, right, from Lt. Col. Thomas S. Jones (of Albany, N.Y.) commander of the U.S. 3D armored division's 32D armor on Feb. 11, 1960 in Grafenwoehr, Germany. Presley's boost to NCO status came as he maneuvered with the Tank Battalion at a field training area. He is a recon scout leader in the U.S. 3D armored division's 32D armor. (AP Photo)
ASSOCIATED PRESS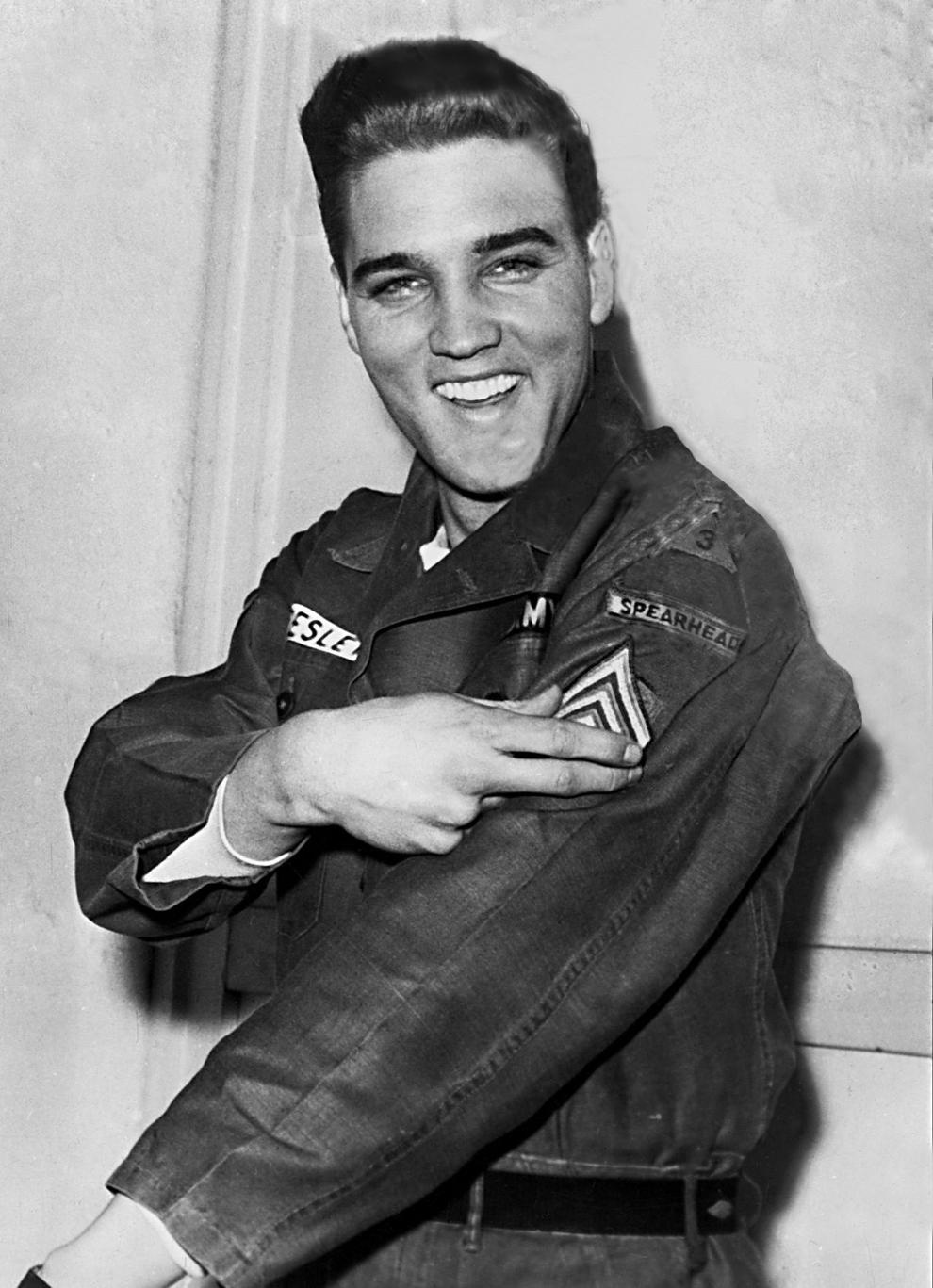 American rock and roll legend Elvis Presley smiles after he is promoted to army sergeant at the U.S. Army Unit's maneuver headquarters in Grafenwoehr, Germany in this Feb. 11, 1960 file photo. (AP Photo/File)
ASSOCIATED PRESS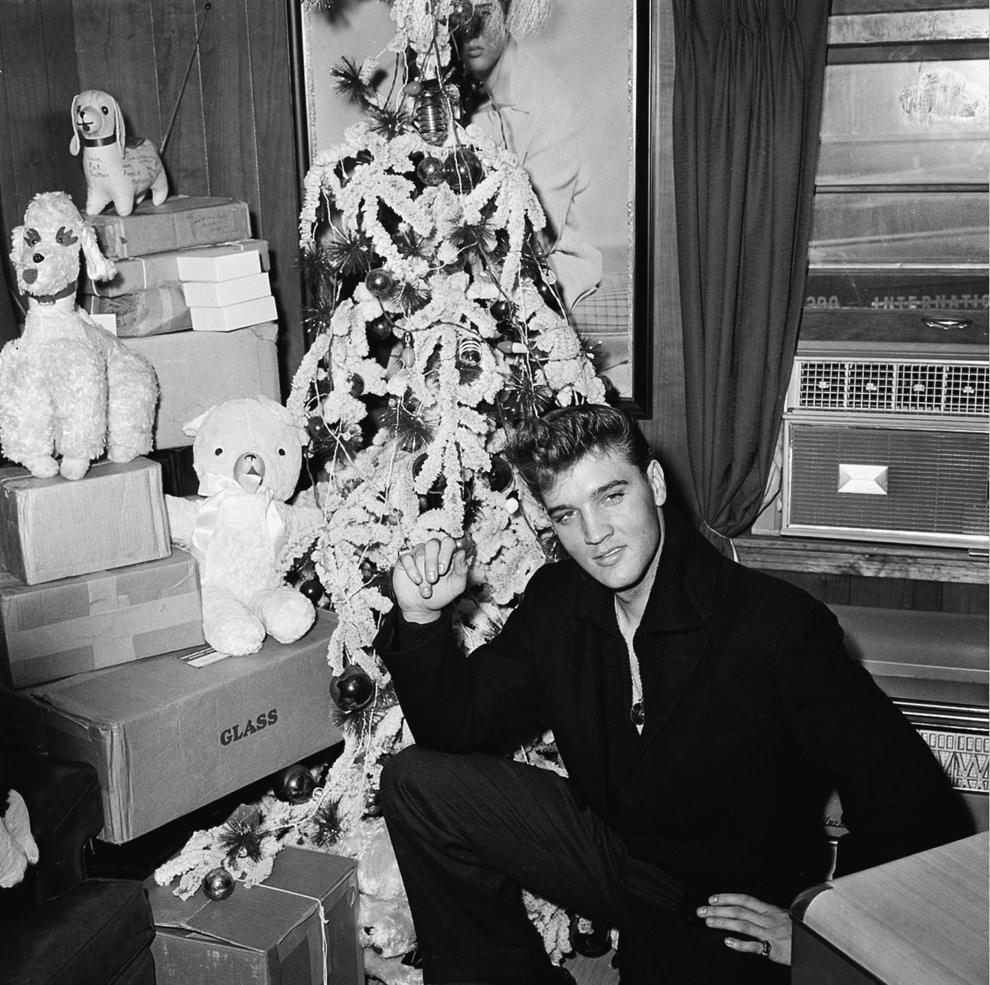 Elvis Presley poses by a Christmas tree at his home in Memphis, Tenn., in 1960. (AP Photo)
ASSOCIATED PRESS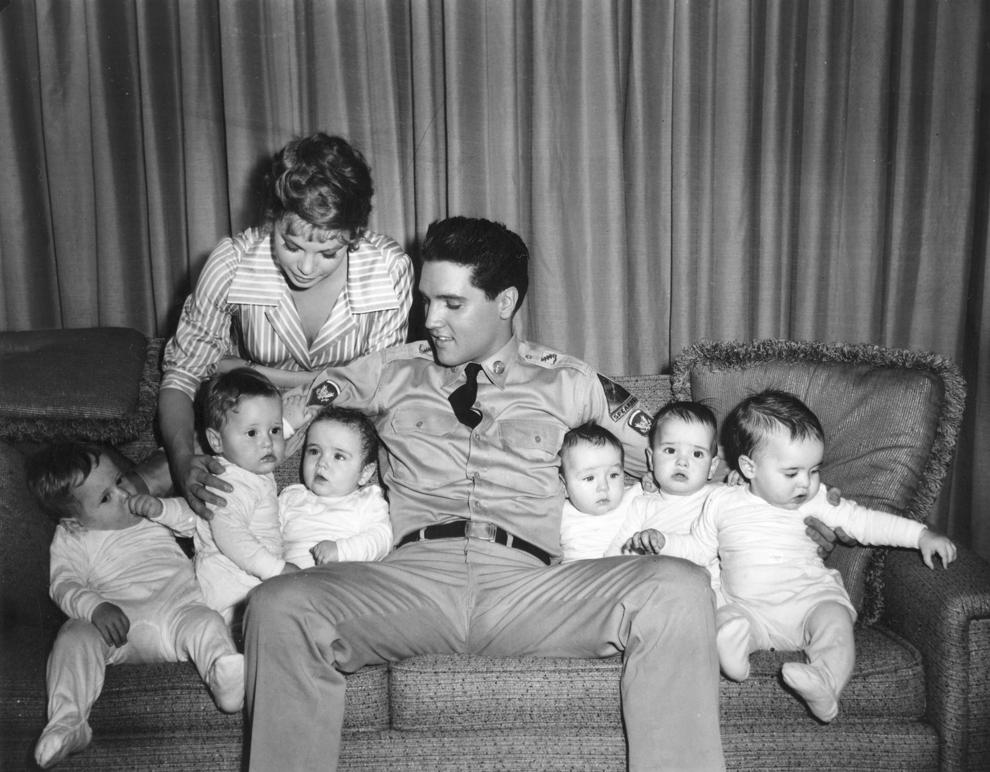 Singer-actor Elvis Presley is shown with six babies who appear in the movie "G.I. Blues" and co-star Juliet Prowse, left, on a set in Hollywood, Ca., on June 27, 1960. The babies are three sets of twins who double for one another in the movie. (AP Photo)
ASSOCIATED PRESS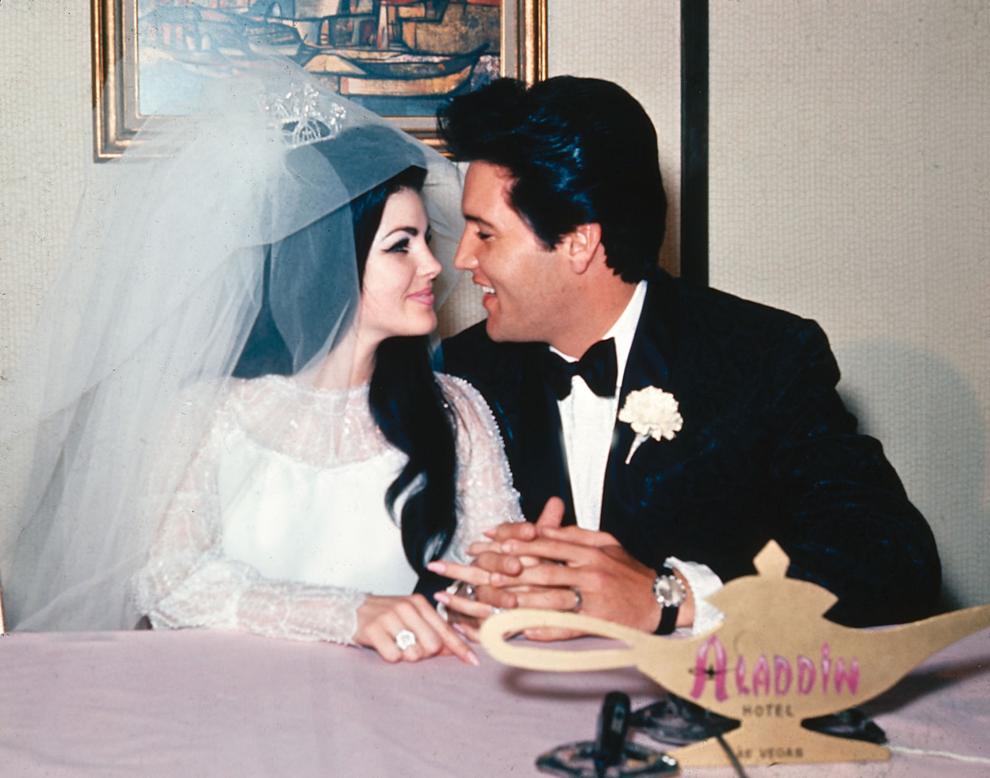 Singer Elvis Presley and his bride, the former Priscilla Beaulieu, are shown at the Aladdin Hotel in Las Vegas, Nev., after their wedding on May 1, 1967. Presley, 32, and Beaulieu, 21, both from Memphis, Tenn., met while he was stationed in Germany with the U.S. Army. (AP Photo)
ASSOCIATED PRESS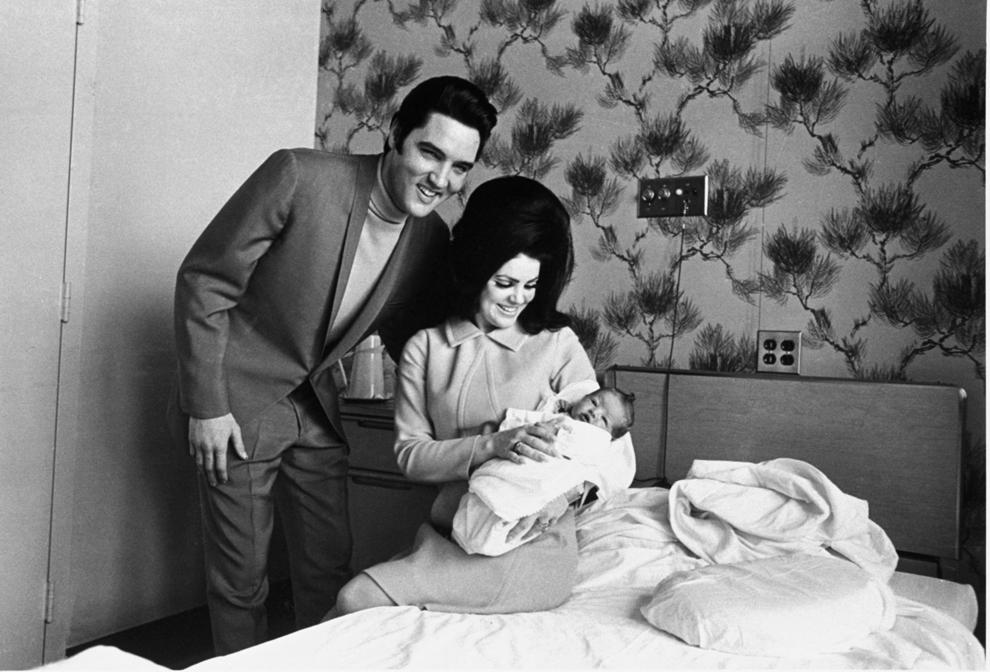 Lisa Marie Presley poses for her first picture, safe in the lap of her mother, Priscilla, on February 5, 1968, while proud father, Elvis Presley, beams his approval. The baby is the first child for Elvis and his wife, the former Priscilla Beaulieu. (AP Photo/Perry Aycock)
PERRY AYCOCK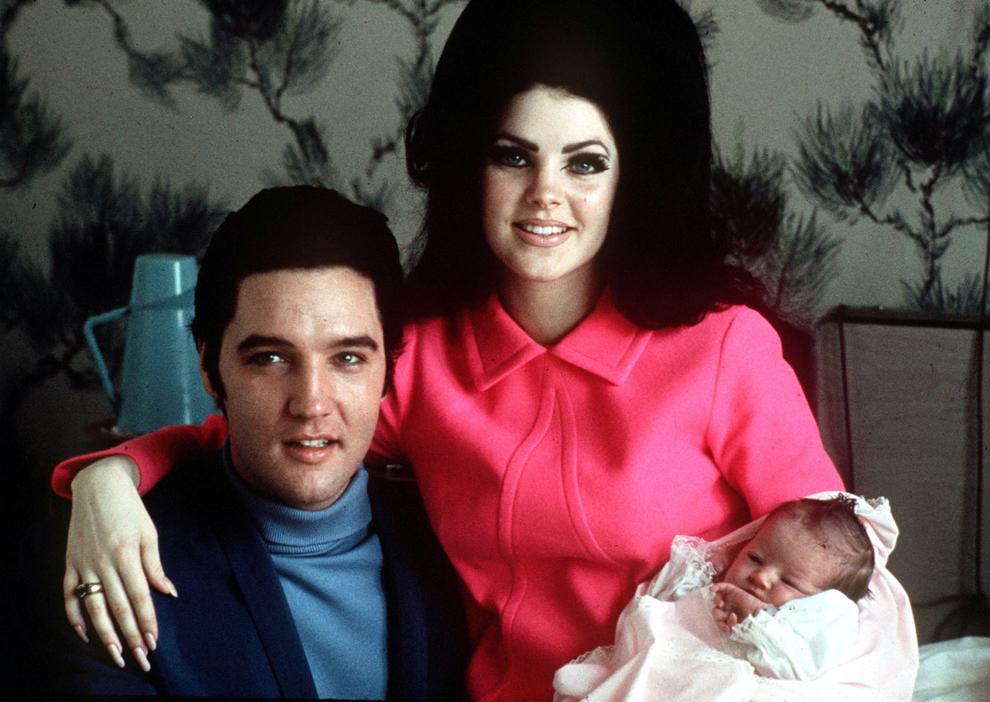 Elvis Presley poses with wife Priscilla and daughter Lisa Marie, in a room at Baptist hospital in Memphis, Tenn., February 05, 1968. (AP Photo)
AP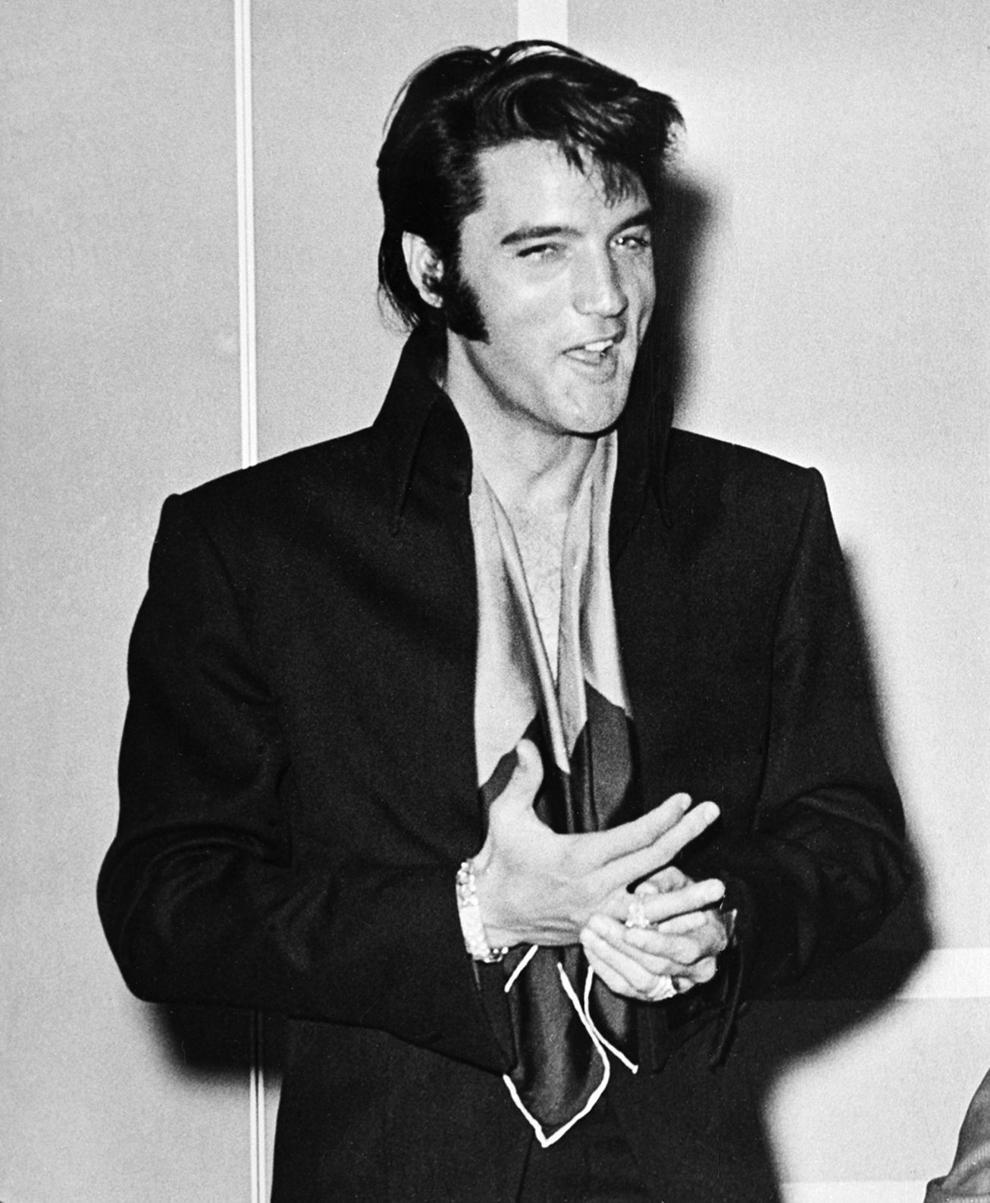 Elvis Presley is shown at the International Hotel where he made his first public stage appearance in 9 years in Las Vegas, Nev., in this August 1969, file photo. (AP Photo/file)
Anonymous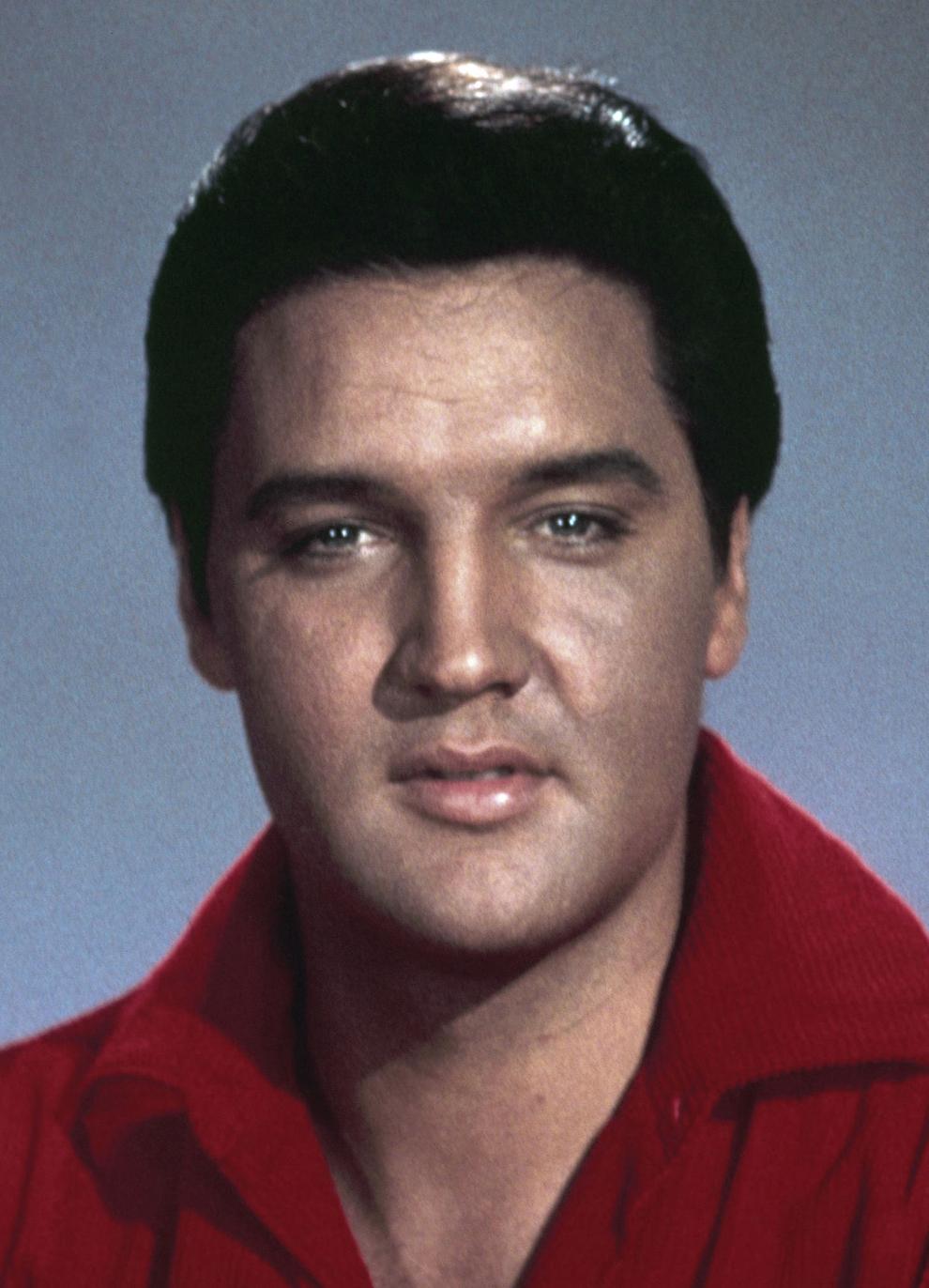 In this undated file photo singer and actor Elvis Presley is shown. (AP Photo, file)
ASSOCIATED PRESS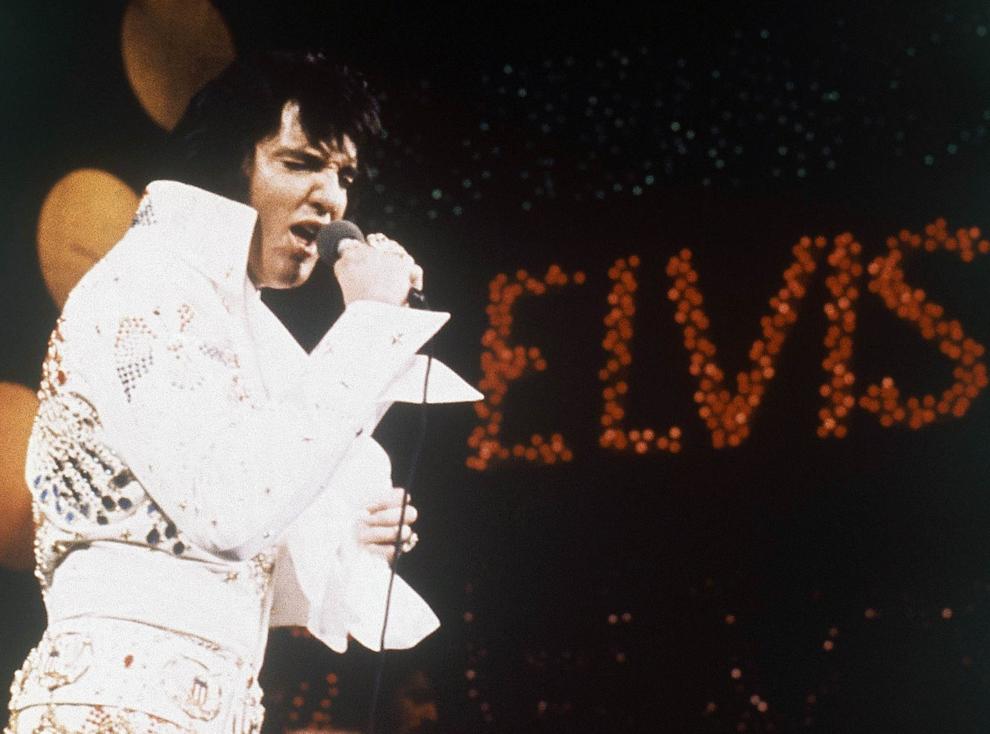 This 1972 file photo shows Elvis Presley, the King of Rock "n" Roll, during a performance. The former Beverly Hills home of the late Elvis Presley and his wife Priscilla is up for sale for a cool $12.9 million. Real estate website operator Trulia says the home hit the market Wednesday, Oct. 10, 2012. (AP Photo, file)
Uncredited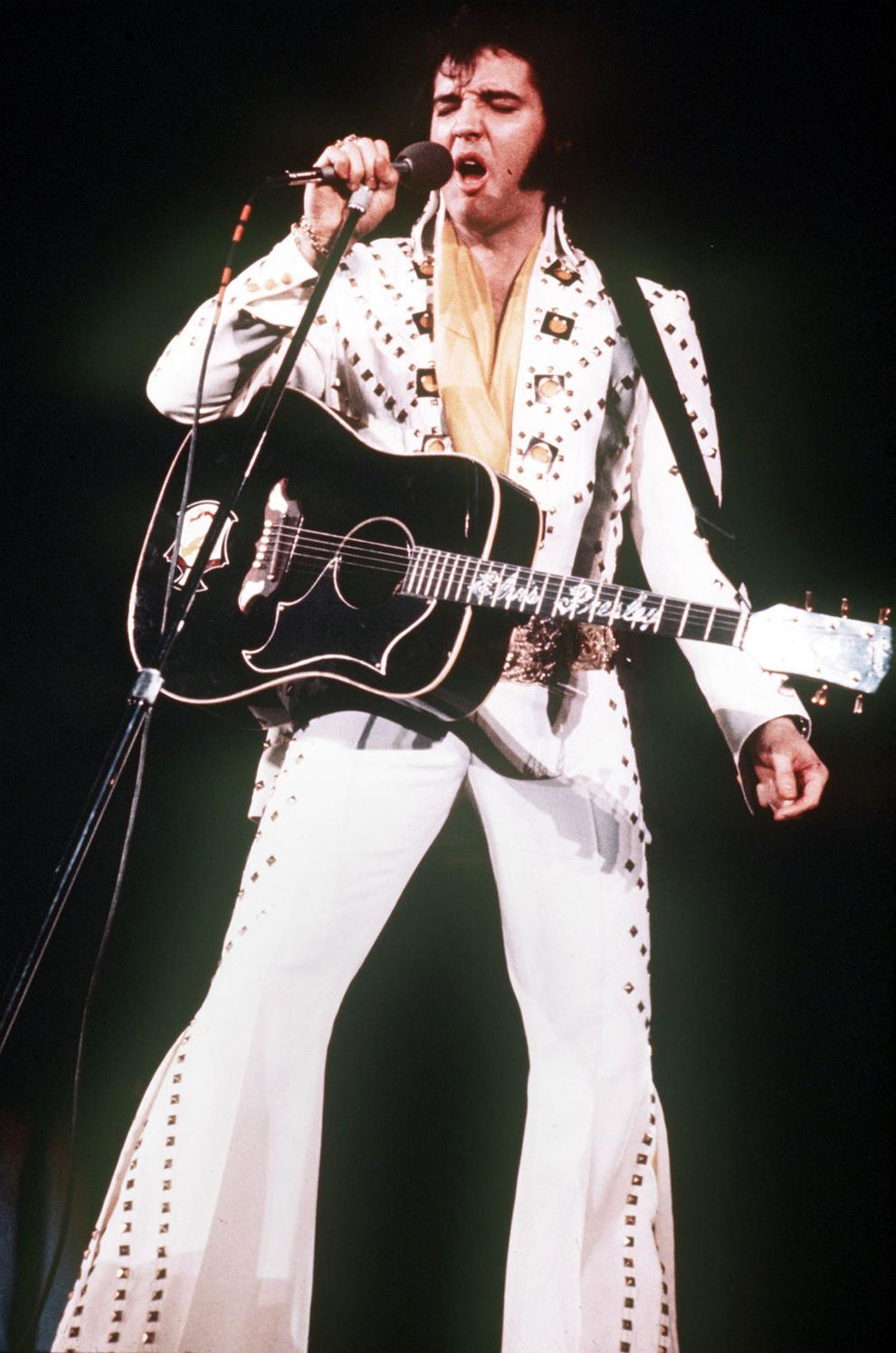 In a file photo Elvis Presley sings during a 1973 concert. (AP Photo)
ASSOCIATED PRESS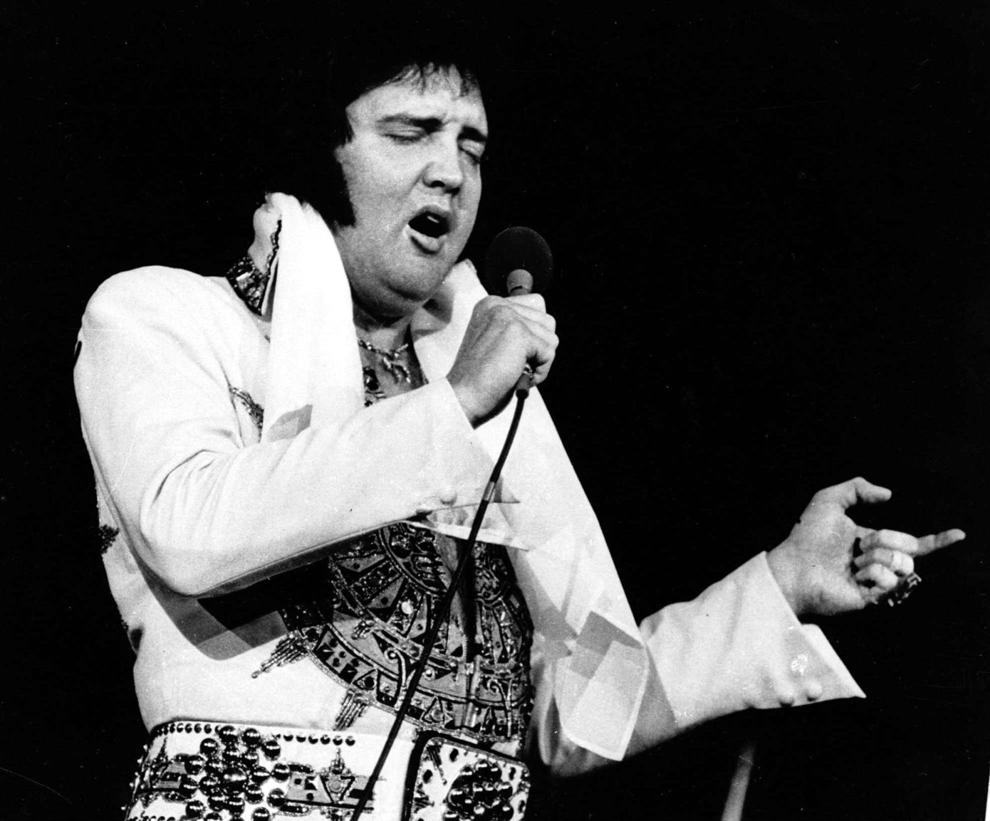 Elvis Presley is shown performing in Providence, R.I. on May 23, 1977. (AP Photo, File)
ASSOCIATED PRESS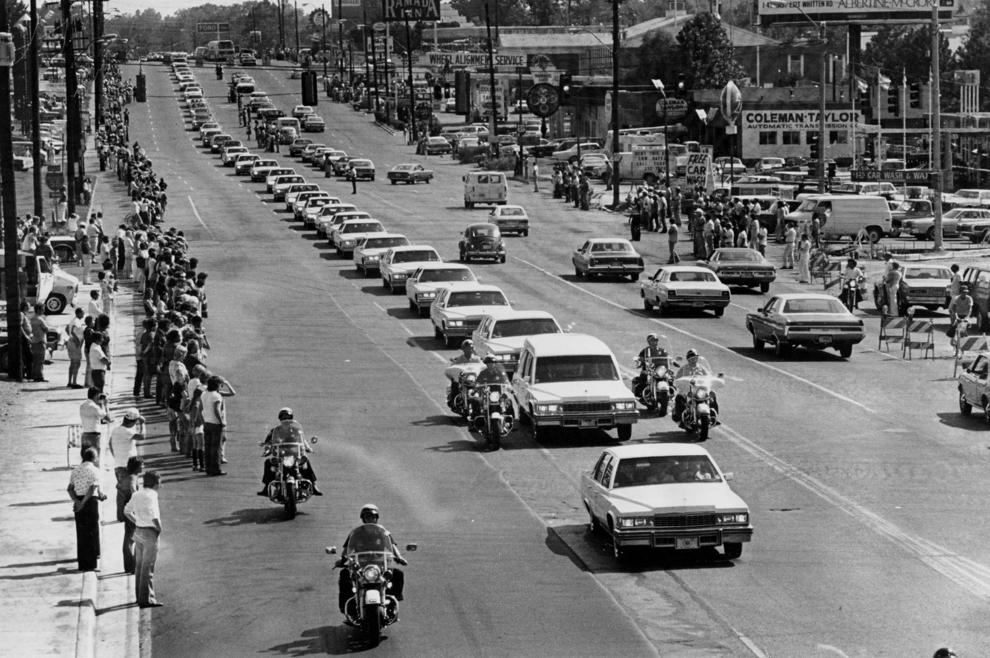 A string of white vehicles follow the hearse carrying the body of rock and roll musician Elvis Presley along Elvis Presley Boulevard on the way to Forest Hills Cemetery in Memphis, Tenn., Aug. 19, 1977. Thousands of people line the route for the city's final tribute to Elvis. (AP Photo)
ASSOCIATED PRESS
Hundreds of people wait outside the late Elvis Presley's Graceland mansion before the gates are opened for the public to view the body of the rock and roll singer in Memphis, Tenn., Aug. 17, 1977. (AP Photo)
ASSOCIATED PRESS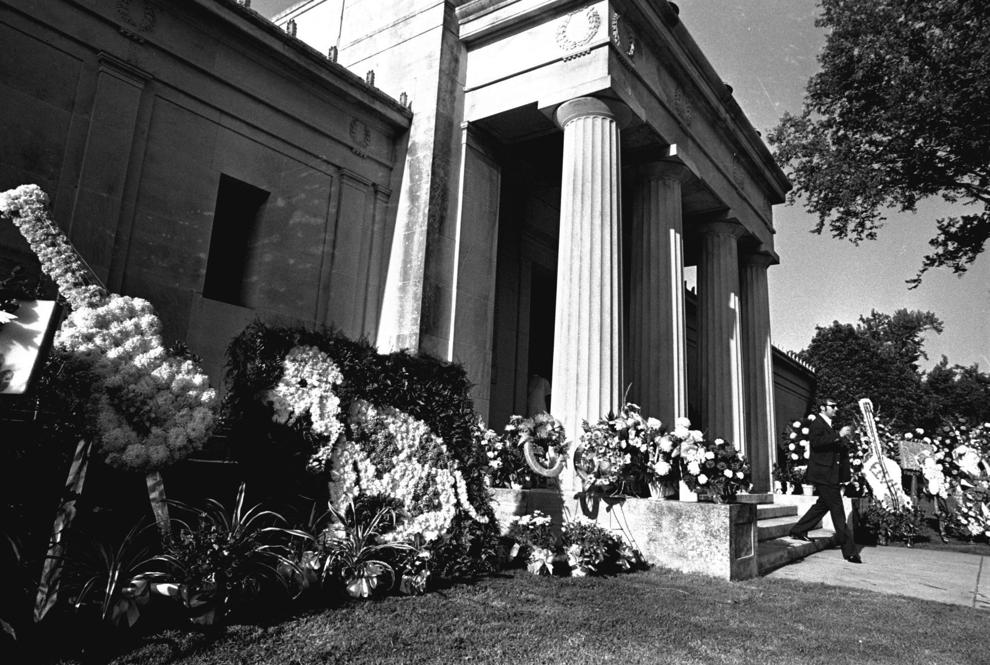 Flower arrangements cover the area in front of the mausoleum containing the body of Elvis Presley after services Thursday afternoon, August 18, 1977, at Forest Hills Cemetary in Memphis. (AP Photo)
ASSOCIATED PRESS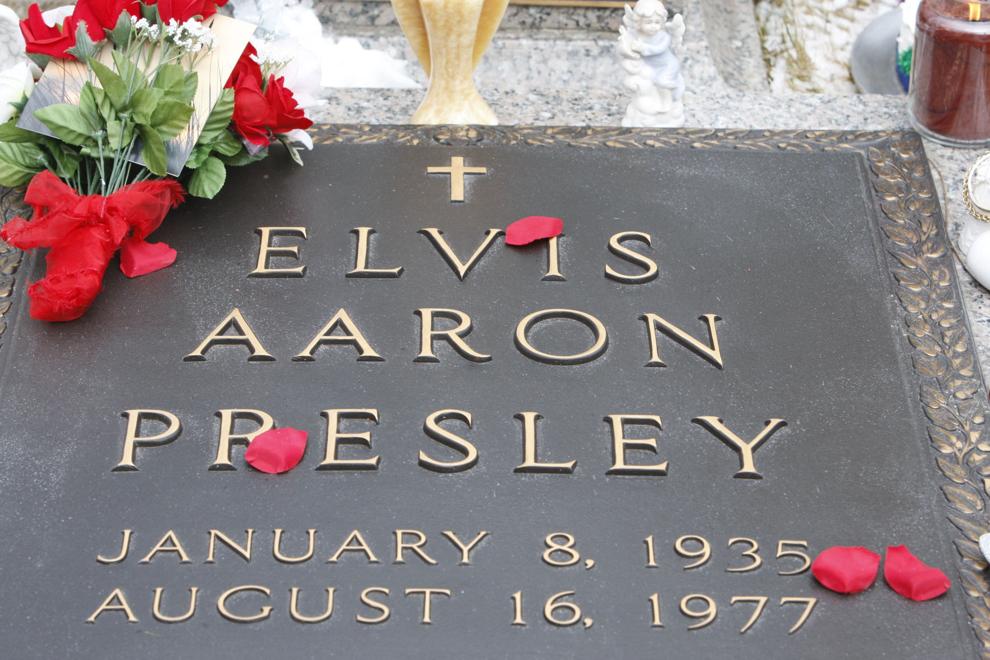 The grave of Elvis Presley at Graceland, Presley's home in Memphis, Tenn., is seen on Friday, Jan. 8, 2010, Presley's 75th birthday. (AP Photo/Mark Humphrey)
Mark Humphrey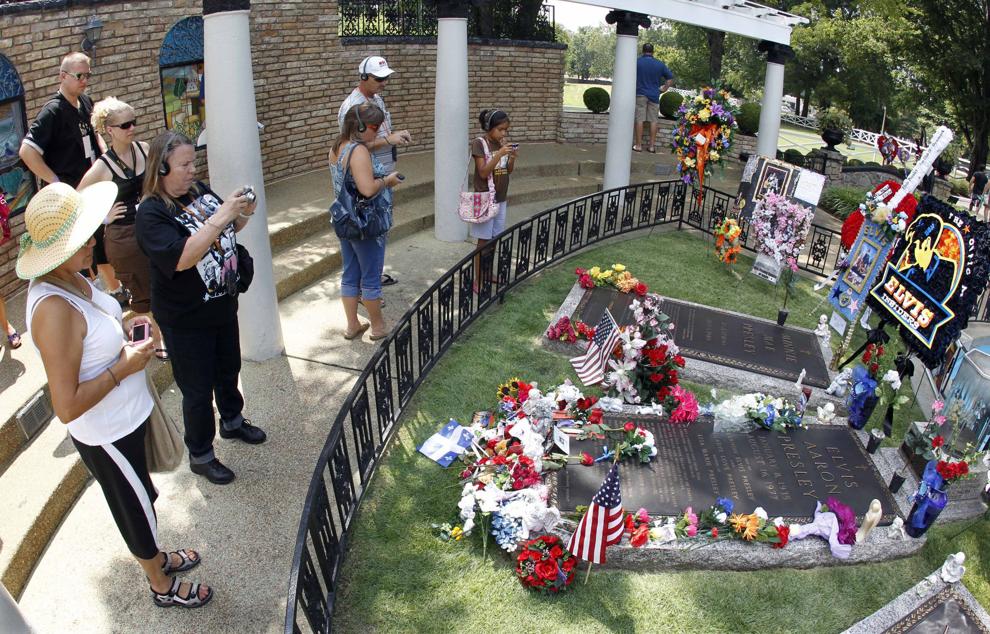 In this Aug. 10, 2010 photo, tourists view Elvis Presley's grave in Meditation Garden at Graceland, Presley's home in Memphis, Tenn. CKx Inc., owner of the "American Idol" television program and 85 percent of Elvis Presley Enterprises, is mulling at least two offers to buy the company. (AP Photo/Mark Humphrey)
Mark Humphrey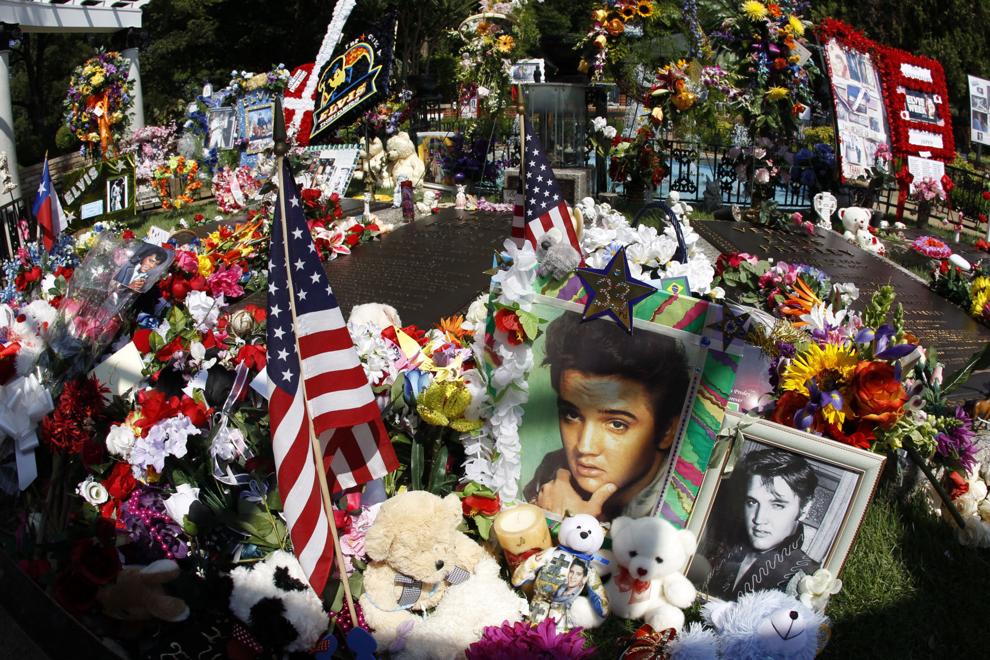 Flowers and tributes left by fans decorate Elvis Presley's grave at Graceland, his Memphis, Tenn. home, on Monday, Aug. 16, 2010. Elvis Presley fans from around the world have come to Graceland for the annual remembrance of his death. Presley died at his Graceland mansion Aug. 16, 1977. (AP Photo/Mark Humphrey)
Mark Humphrey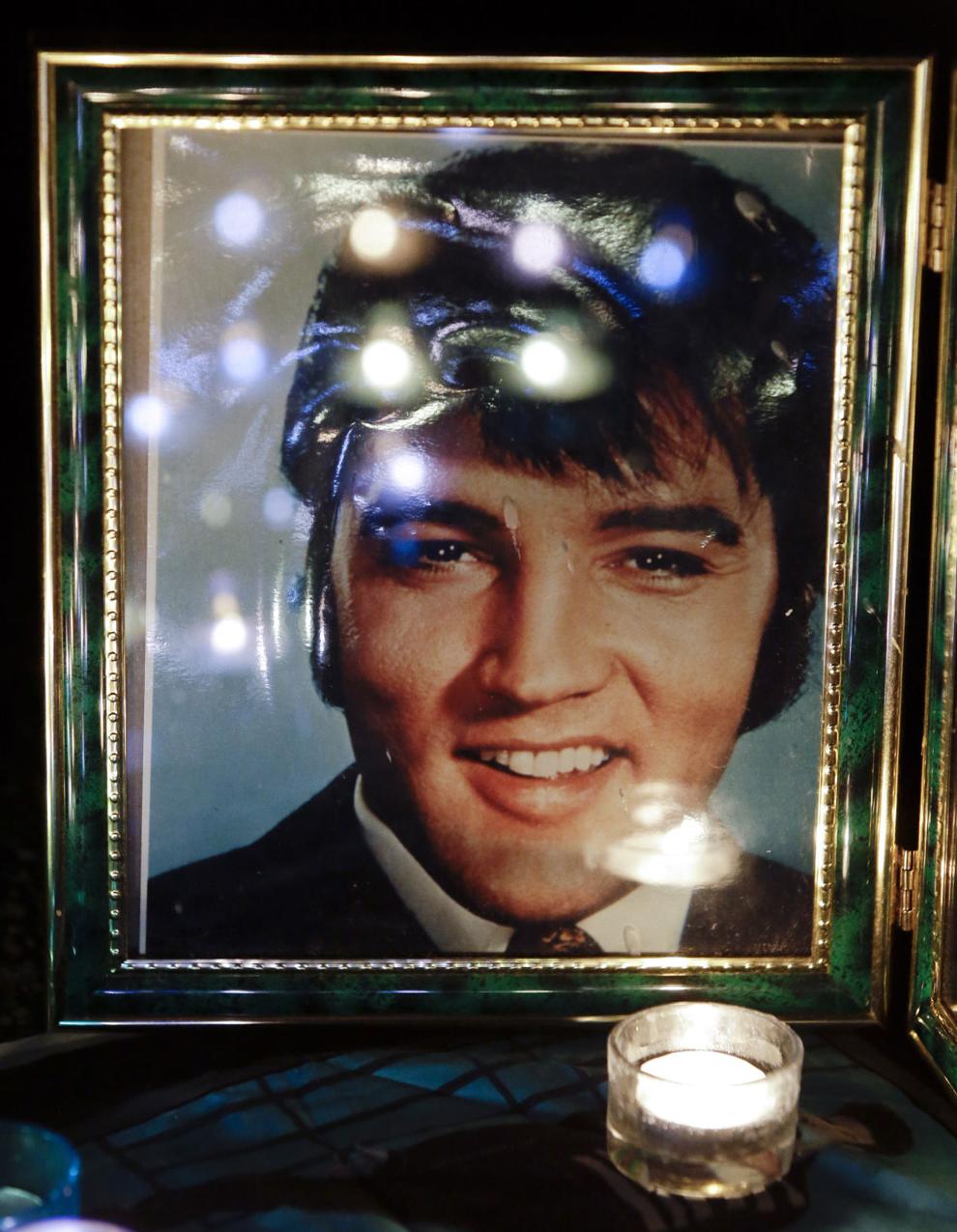 Candles are reflected in a photo of Elvis Presley at a memorial set up by a fan at a candlelight vigil at Graceland, Presley's Memphis, Tenn. home, on Wednesday, Aug. 15, 2012. Fans from around the world are at Graceland to commemorate the 35th anniversary of Presley's death. (AP Photo/Mark Humphrey)
Mark Humphrey
Receive the latest in local entertainment news in your inbox weekly!
Source: buffalonews.com